Crock Pot Cooking that is what I am talking about. I love to cook in the crock pot. Throw it in and forget about it until dinner is my kind of cooking. Today we're sharing a recipe for Slow Cooker Chicken and Broccoli. I think you'll find this recipe delicious. Our family does.
Crock-Pot Chicken & Broccoli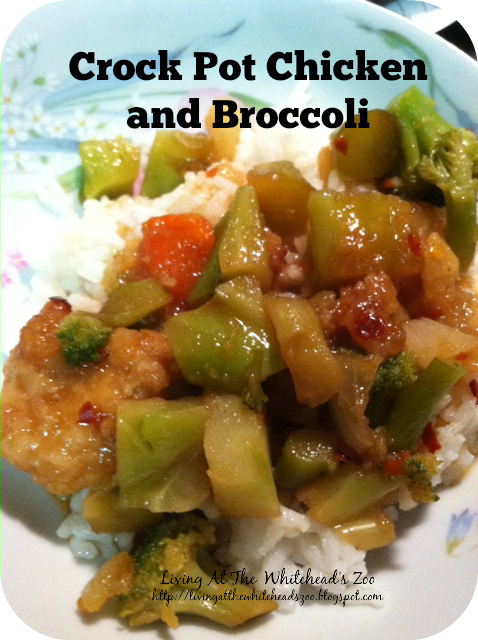 Oh Boy this is Good!
4 boneless, skinless chicken breasts
½ cup l soy sauce
⅓ cup dark brown sugar
3 garlic cloves, minced
¼ teasp red pepper flakes (optional)
2 Tbsp cornstarch for sauce + 1/4 cup of corn starch for breading
2 cups broccoli florets
Diced bell pepper (red and green) optional
What to do:
Dice up your chicken breast.
Put 1/4 cup corn starch in a ziplock bag.
Add your chicken to the bag and seal it up. Giving it a good shake or two to coat your chicken with the corn starch.
In a skillet add a couple of tablespoons of olive oil on Medium heat.Cook your chicken for 3-5 minutes on each side.
Scoop up your chicken and put it in your slow cooker. Then add broccoli, soy sauce , sugar, garlic, and red pepper.
6. Give it all a good stir. Cover with lid and cook on low for 6 hours or high for 4. 30 minutes before your ready to eat stir in 2 teaspoons of corn starch.
This is so easy. You can freeze it once it is cooked. Or you can do the prep work and have it ready to go as a freezer meal. Either way it does well.
Serve over rice or over angel hair pasta.
I hope your family enjoys this meal as much as mine does. You might like some of our other crock pot recipes.