Have you ever wished that you could have a whiter brighter smile? We're reviewing a product today that is designed to help you with that The Smile Brilliant
Teeth Whitening System
.
Here is a
before photo
~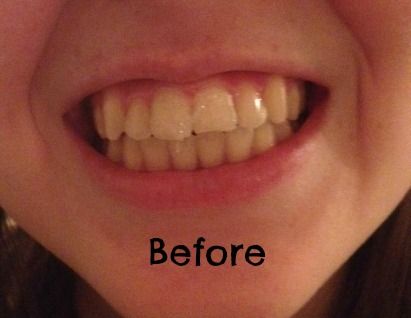 Note:
You need to allow yourself plenty of time to use the teeth whitening system. It is is recommended that you leave the light in your moth for 20-40 minutes , and gel and protective tray for 1-3 hours.
The process was pretty simple but be sure and read the directions before hand all the way through so you know what you are doing before you get started.
You are going to get the gel out of the pen to do this you will twist the butt of the pen. Then it is time to paint the gel on your teeth. Paint the gel evenly on top and bottom teeth, avoiding the gum area.
After applying the gel it is time for you to do the protective tray and LED light. Press the white button on the light to turn it on. (this was the longest part holding the light in my opinion)
As I mentioned above you need to keep the light in for 20-40 minutes so it takes a bit.
Our End Result ~
I can definitely see a difference. After using this your teeth feel so clean. It feels like you've just visited the Dentist you know what I'm talking about ? When your teeth feel really clean they have all the gunk removed after a good cleaning.
Here is some information for you about teeth whitening. Teeth Whitening will only remove the stains from your enamel revealing the color of your dentin. Not everyone's dentin is bright white so your results may vary. Pregnant or nursing women should consult their Doctor before using. 1 tooth whitening pen contains enough if only whitening the front teeth to use 5-8 times.
Would you like to try Smile Brilliant teeth whitening at home? If so, we have a giveaway for you today just fill out the entry form below (rafflecopter) for your chance to
Win
the same kit we reviewed. Contest open to
US
only .
a Rafflecopter giveaway
"Living at the Whiteheads Zoo received a complimentary teeth whitening kit from Smile Brilliant for reviewing purposes. All opinions shared here are our own based on this review experience. They may vary from your experience. Thanks "