We kicked off the first Saturday of Spring by heading to the
Florida Railroad Museum
in Parrish Florida for a
Day Out with Thomas
the Train. C. has been a Thomas fan for the past several years and I was probably just as excited as he that we were getting to go to this event.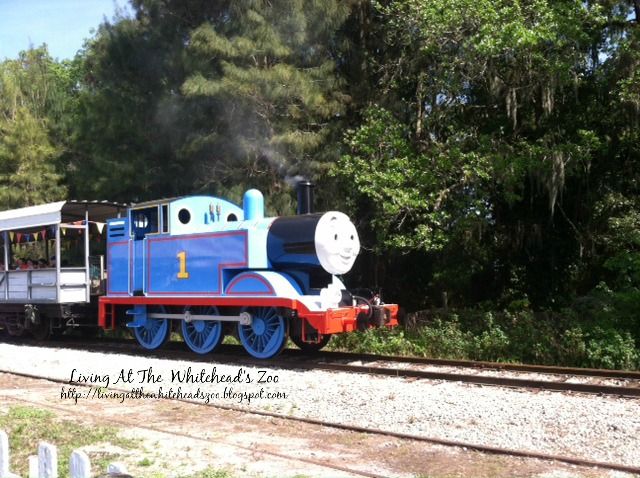 We hopped in the car and headed to
Parrish
. We had a few hours in the car to get there. We arrived just a bit before two pm and our train ride was at 3. C. was so excited he had been talking about riding Thomas all week. They gave him a map when we entered and told him to get each picture stamped so he could get a prize before we left.
There were several fun areas for the kids to explore. A
tattoo station
(we skipped that one because C. does not like tattoos or face paintings.) He spied the
Imagination Station
and we headed inside to play. There were several different train tables set up for the kids to play with. Also a really neat area with tablets where the kids could try the newest Thomas and Friends games. There were several sand tables set up, and also a fun building area. Lots of fun to be had using our imaginations in this area. After we finished playing we snagged our stamp and moved on.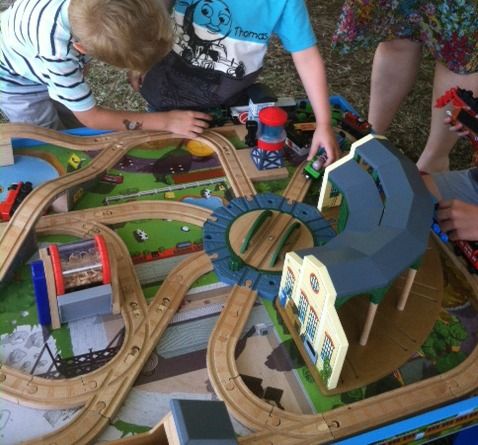 Another stop on our map was the story time and video station. We ended up leaving this station early . Every seat was full and we were standing in the hot sun , so C. asked to move on. The kids all looked to be enjoying our story. Luckily the nice crew members giving the stamps had no problem giving us an extra at the other stations later in the day.
They had some inflatable slides and also a fun small train for the children to ride on. C. was in such a hurry to get to see Thomas he really didn't want to do any of these stations. There were several lines and it looked like other children were having fun here. I was kind of happy to skip them and not stand in a line =) so we kept going.
We headed to see
Sir Topham Hat
and get a photo. C. was so excited about Sir Topham Hat. However, when he saw him coming he changed his mind and wanted us to leave ASAP. I was not overly surprised because he never does the costumed characters. There was a professional photographer here . They were great they give you a business card and you can go and view your photos while you are here, and print them if you decide to make a purchase. C wouldn't get his photo taken here or with in 10 feet of Sir Topham Hat. We took our own photo (this was allowed) and moved on.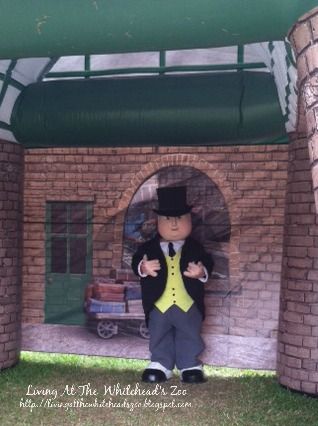 We explored the large train from the Florida Railroad Museum. Just as we were coming off of it we heard Thomas toot his horn. Here he came down the tracks and C. was more than a little bit excited. That smile on his face when he saw Thomas definitely made the trip well worth the time and cost to this Mama. Luckily it also meant that we could get in line to board Thomas next.
As we were boarding there were lots of people . We were walking forward when a man that worked on the train said this way and opened a closed off section. We followed like he told us to only to get to the end and realize we were not in the right area. The man at this end was so nice. "He said for some reason he keeps sending people the wrong way just wait here." At this point I was worrying what if we didn't get a good seat or didn't see Thomas well. Just the opposite happened. In a few minutes the man opened the area in front of us and told us to go on through and pick a seat. We were the very first ones on the train ! This was AWESOME!! C. picked a seat in the first car behind Thomas. There were several other cars behind us for a total of 5 I think.
The train ride is about 25 minutes long. After the train ride it was time for a photo op with Thomas. Professional photographers were here again (and they were also on the train). You can use your own camera here also. Now warning I was pretty disappointed here and so were several others behind us. You only have a few minutes between departing your train and them loading the next train to get a photo. There is a very long line. I actually thought we would make the photo but when were about 5 people from the front the conductor yelled one more minute and that was that. Either wait 25 minutes for him to come back or say oh well. I think it would be a fabulous idea if they had some kind of Thomas model set up for photos. I know I was not the only disappointed mommy to miss my photo opportunity. It's Florida though and at 3:30 in the afternoon in full sun it's hot so we did not hang out for 25 more minutes we headed to the
Gift Shop
.
After the Gift Shop we grabbed a couple of lemonades and see got an ice cream. Now I will warn you these items were priced at your typical vendor/fair type high prices. A bowl of ice cream was $5. Then my son changed his mind and didn't eat a bite. Kids!
We had a great time at a
Day Out With Thomas the Train
. If you have a train lover in your house and Thomas comes to your area we definitely recommend going. Even if there is a drive. To find a Thomas Event near you visit
Ticket Web
.