Mr.Peabody and Sherman is in theaters right now. You have probably at the very least already read about it in other reviews or maybe you have even taken the kids to see it already? If not then you are in luck , because I'm going to share our thoughts on
Mr.Peabody and Sherman.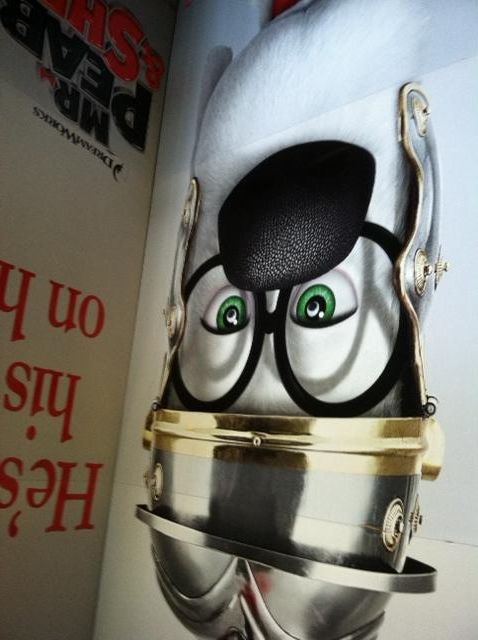 C is 5 years old but sitting through a movie has not always been his strongest suit. After receiving Mr.Peabody in our Happy Meal we decided to give the movies a try again. SUCCESS. He did not budge the entire movie and ate one whole bag of popcorn. How someone so little could hold so much popcorn I seriously have no idea.
This movie has all kinds of adult humor. I enjoyed it just as much as C. Do you remember Rocky and Bullwinkle from the past? Well Mr.Peabody and Sherman are a spin off from this.
A Little About it ~ Mr.Peabody (voice by Ty Burell) is a Dog and Sherman (voice by Max Charles) a little boy. Mr.Peabody is very successful and he applies to adopt Sherman a human boy. Mr.Peabody has created a time machine in which Sherman and he travel the world. Then they have to park it for Sherman to have a new adventure he begins school.
Now, there is a not so nice girl at school. Some might call her a bully. Several events unfold and Sherman and his friend Penny end up sneaking off in the time machine (WABAC). Oh boy talk about an adventure . They visit the pyramids, the French Revolution and several other significant historical events.
What did I think as a Mom-
I love the historical aspect of the movie and the humor behind it all. I laughed as much as the kids. The characters are great ones. Lots of thought put into this movie. It touches on several topics, different families, adoption, bullies and then you add in the fun of time travel. We vote this one a winner. I will definitely be adding it to our personal video collection when it is released!
If you are looking for a fun movie this weekend to share with the kids we definitely give Mr.Peabody and Sherman the Whitehead stamp of approval. Enjoy!
"Living at the Whitehead's Zoo was not compensated in any form to share this review. These opinions are based on my own personal experience with the movie."