Where do you get your Chinese take out? Do you try different things or get the same thing every time? I like to try different things off the menu but I do have a difficult time straying from my favorites. One of them is the Firecracker Chicken from Panda Express. Firecracker chicken is made with chicken breast it has red and yellow peppers, plus onion and is cooked in a delicious black bean sauce. It has some serious spicy kick to it hence the name Fire Cracker Chicken. We're going to share our version of this meal with a Copy Cat Recipe.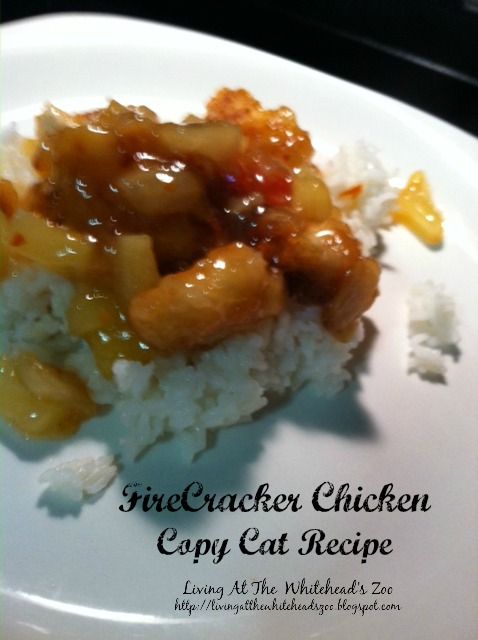 Before I share the recipe let me tell you about the evening. I am lying here very sad for a family who will probably lose their child tonight. A teenage boy who goes to school with my son had a terrible accident this weekend. The story is so very sad and my heart breaks for everyone involved. I am reminded that life is so very short we never know what tomorrow will bring. Sometimes bad things just happen to really good people and that is hard to understand. On top of these deep thoughts I broke my toe tonight. The scene that unfolded was not one of finer moments. I seriously rolled around on the kitchen floor wailing. You should see my 5 year old imitate me I made quite the impression. And I didn't eat dinner because all of this happened right at dinner time and now I'm starving and thinking of this yummy chicken recipe I'm fixing to share with you guys. So that is how this post has come about my friends.

FireCracker Chicken (Copy Cat Recipe)
You will Need:
Red Bell Pepper Diced
Onion Diced
2-3 chicken breast cubed
flour (for breading)
corn starch (just enough to coat your chicken )
1 can of pineapple chunks
oil for frying ( a couple of tablespoons)
2/3 cups sugar
1 cupwater
2 eggs beaten
1/2 teaspoon of red pepper
1/3 white vinegar
Here is what you do: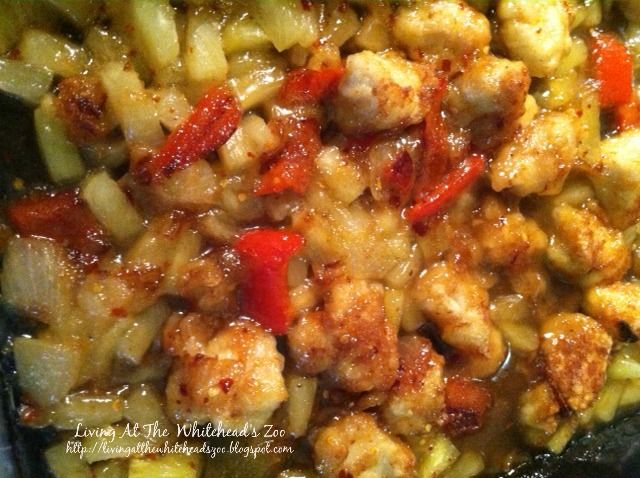 Heat the oil in your skillet . Bread your chicken into flour, then beaten egg mixture then coat it in corn starch and add to the hot oil. Cooking for several minutes on each side until done.
Now add this to a casserole dish.
In a sauce pan heat 2/3 cups of sugar , 1/3 cup white vinegar, 1 cup of water, salt , a couple of cloves of garlic and red pepper flakes. NOtE: Remember red pepper a little goes a long way. Once you have heated it until nice and bubbly and thick add it over the chicken in the casserole dish.
In the same oil you browned your chicken add in you peppers any garlic you have left and onion and brown them for a couple of minutes. Add in your pineapple chunks and give a good stir. Now add this to your casserole dish and give everything a good stir.
Bake in preheated oven of 350 for 20-30 minutes. Serve over Rice.


I'm here to tell you this recipe is delicious. It is also a
FREEZABLE Meal
. Double the recipe and freeze a batch for later. You can also freeze rice so make a double batch of it also.