One of my favorite places to dine out is the Cheesecake Factory. One if I am eating there it probably means I am out with friends and not the kids. You know girls night out. I am not sure what my favorite item on the menu is. Everything I've tried has been pretty top notch. They have great hamburgers, I'm a pretty big fan of the chicken

parmesan . If its a girls night out we'll usually all get something different and share. Win Win right. One of Jamie's favorites is the Lousiiana Cajun Chicken Pasta. As much as I love to eat out or have a girls night out I don't do it very often. I simply can't afford the expense . Specially when I can recreate the meal for a fraction of the cost. And your family will agree it's great.
Louisiana Cajun Chicken Pasta Recipe
Ingredients for the chicken:
4 chicken breast

2 teaspoons of Cajun seasoning

1 cup of croutons crushed (I use the garlic herb ones)

1/4 cups Parmesan cheese

1 egg

water

2 tablespoons olive oil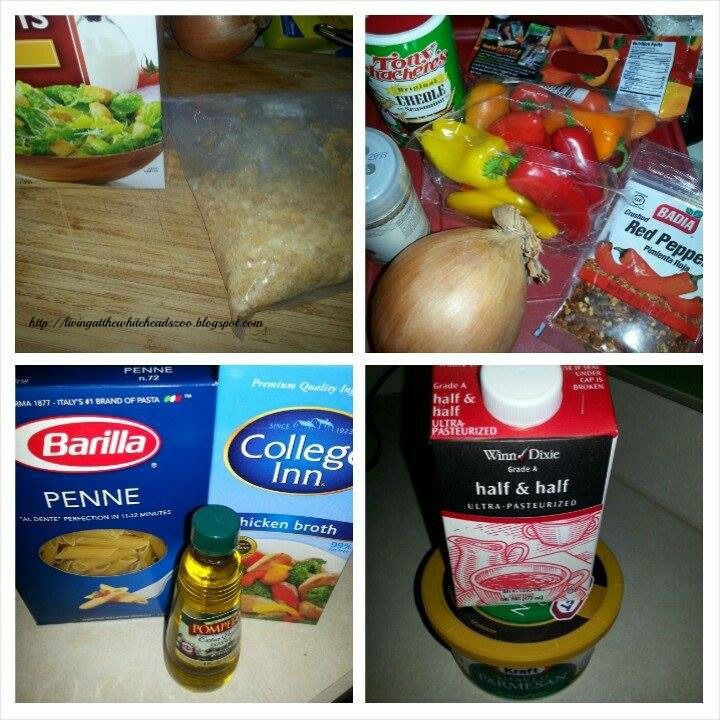 Ingredients for the pasta:
1 lb Penne pasta

1 Tablespoon of butter

1 Tablespoon of olive oil

1 small onion diced

4 garlic cloves minced

1 tsp crushed red pepper flakes

1 red pepper / 1 yellow pepper chopped

1 cup of chicken stock

2 1/2 cups half and half

1 Tablsepoons Cajun seasoning

1 cup Paremsan cheese

1/2 teaspoon basil

1/4 teaspoon Italian seasoning

salt and pepper
What to do:
For the Chicken
Season both sides of your chicken with salt , pepper and Cajun Seasoning.

Beat egg and water together in a bowl for dipping chicken.

Combine croutons and Parmesan cheese in a bowl for breading chicken.

In a pan heated with olive oils coat your chicken in egg mixture, dip into crouton mixture and add to pan. Cook until done about 8-10 min.
For the Pasta and Sauce:
Put water on to boil for pasta. Add salt. The cook pasta according to directions. Drain and set aside.

Heat olive oil in a frying pan and butter on Medium heat. Add in your onion, garlic, and red pepper. (you can omit the pepper if it is to hot for you) Saute for about 3 minutes.

Add in your chopped peppers and saute about 5 more minutes

Whisk in your chicken broth and half and half until bubbly. Add in Cajun seasoning and cook on low.

Add cheese and basil to your simmering sauce. Add in cooked pasta. Give a good stir.
Serve chicken on top of the pasta. Sprinkle with Parmesan cheese if you'd like. You might also enjoy our Copy Cat Bennigan's Monte Cristo Sandwich recipe.
We changed a few ingredients and steps from the original copy cat recipe by Written on Her Heart . We recommend you checking both recipes out and make our own substitutions for your pantry. We're sure you'll come up with a family winner.