When I found out I was going to be a mom one of the first things I did was head to the book store. Not only did I want books about being a great mom, I wanted to begin my child's at home reading library. Now I have the fun of sharing that library not only with my own children but with the preschoolers I grow to love each year. I love sharing my love for reading with children. Today I'm reviewing a new children's book
BIG RIG
.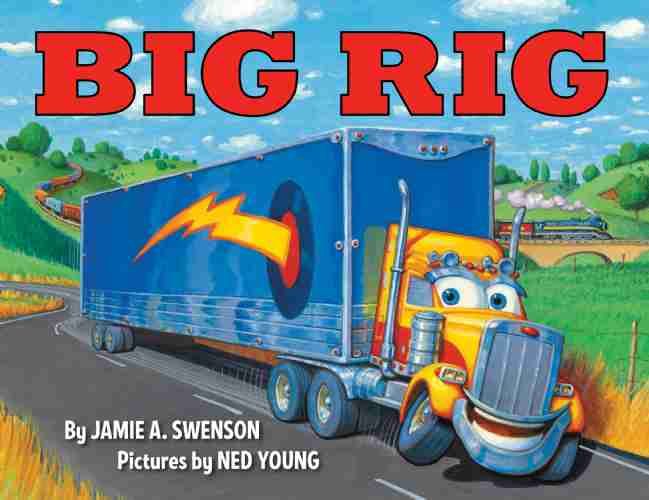 Big Rig is written by Jamie A. Swenson and illustrated by Ned Young. The illustrations in this book are big, bold, and bright the kids absolutely
LOVED
them. There are several different things I appreciated about this picture book.
Jamie Swenson did a fabulous job of including new words and then explaining them in a new way children can easily understand.
This book has all kinds of fun sounds. The kids really love repeating them with you and practicing them as we read.
The truckionary in the back of the book with Big Rig terminology is a great plus.
The bold bright illustrations, the quirky use of sound effects this book was a lot of fun to share with our preschool class and my son.



MORE About the Book :
Come along for the ride as Frankie the big rig truck takes us on the job, driving past kiddie cars (school buses) and land yachts (RVs). Hear the horn blow and the wipers schwat the windshield clean. But, BANG! SHHUUU! Uh-oh: a blow-out! Don't worry, a service truck saves the day so we can get the job done and make a very special delivery. Every kid will love to learn the truck driver lingo in the story, and shout out their own sound effects as they return for another ride, read after read. Author Jamie Swenson takes readers from zero to sixty with her fast-talking truck and Ned Young's bright and engaging illustrations
We very much enjoyed Big Rig. This new children's book is now a regular request at story time.
"
I received a complimentary copy of Big Rig for review. All opinions shared here about the book are completely my own."