How to Make Shrinking Leprechaun Hats "Kids St.Patrick's Day Activity"
St.Patrick's day is such a fun kids holiday other than the pinching of course. I mean really who wants to get pinched? Some of them kids can really put a hurting on too so we have to set the ground rules NO PINCHING what so ever. Other than that we celebrate with mysterious visits from naughty leprechauns, setting traps to catch them and fun crafts and activities during the end of February beginning of March. Who can resist rainbows and pots of gold?
We found this amazing awesome activity where you make shrinking leprechaun hats. It couldn't be more
inexpensive
it cost me a whole dollar and I had plenty of leftovers to share with the class next door. How cool is that! You can pick up 45 styrofoam cups at Dollar General for a dollar so there you go. You want the cups with the lip on them (like these) ...
Next all you need is some markers. Any marker will do just fine. You can do washable markers and crayons that is what we like here in preschool. You know sometimes children will color on themselves. For my hat I used Elmer's paint markers which are my favorite art media. Have the children decorate their cups.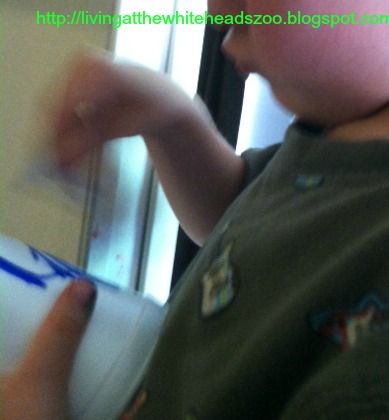 This guy meant business see those lips he is concentrating.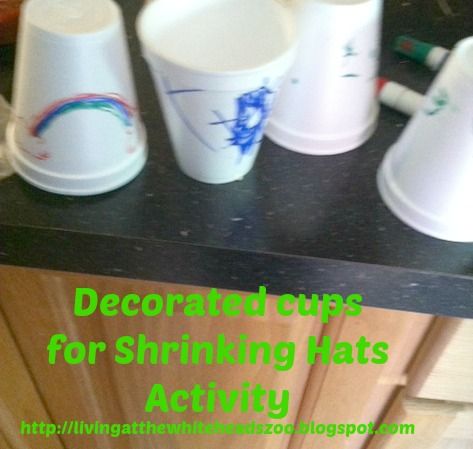 Note to teachers and Moms
~ Be sure and put a name on it where you can find it or some way to identify whose is who because they are going to shrink up.
Now once they have decorated them you are going to take them home and bake them. I did not bake them around the children. The styrofoam does give off a fume . I am willing to take the risk for any effects / toxicity but not risk any children. So be warned if you make them
make them at your own risk
.
Now spread them out on a cookie sheet like so . I first tried 250 and nothing happened so I boosted my oven up to 300 and bam we had leprechaun hats. The entire process takes about 5 minutes. So be watchful.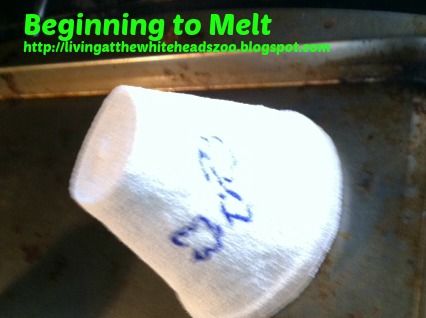 This is what happens if you forget and don't take your hats out in time... Oopsie !
We decided to make our own shrinking leprechaun hats after reading some tips by
Mrs.Miners Kindergarten Monkey Business
.
Here is one of our final hats. I love the way they turned out.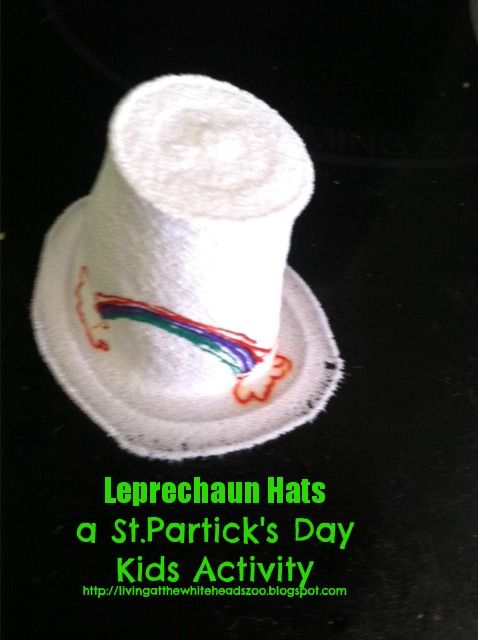 What fun activities do you have planned for St.Patrick's Day? You might also like our Leprechaun Trap or St.Patrick's Day Sensory Tub.