Last weekend as a Fox Home Entertainment Insider we had a great time tweeting with other insiders and enjoying a family movie night. At 6PM EST. on February 8th all of us insiders put in our Free Birds DVD and began to tweet. It didn't take long at all to see that Free Birds was considered funny by all ages. The teenagers were laughing, the preschooler was laughing , and this old Mama she was laughing too.
Free Birds
From the Academy Award®-Winning producer of Shrek* comes a hilarious animated adventure about two turkeys from opposite sides of the tracks who travel back in time in order to keep their species off the Thanksgiving menu. Featuring an all-star voice cast, including Owen Wilson, Woody Harrelson and Amy Poehler, Free Birds is loaded with laughs and stuffed with fun for the whole family!
We received a fun great bag from Fox filled with all kinds of goodies for the kids. My favorite item was the cute bag that held the goodies.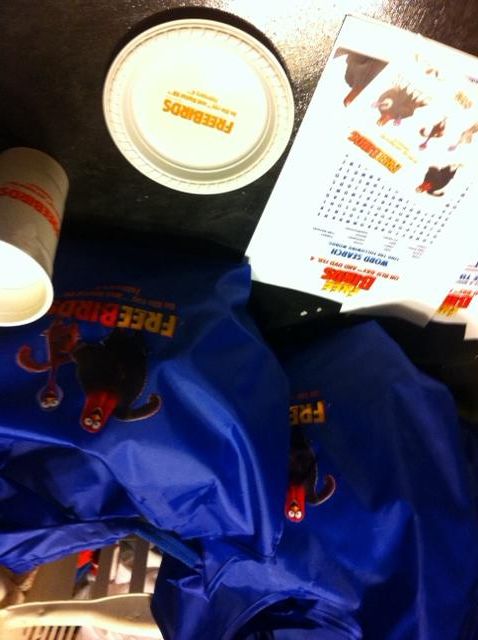 Before the party we had a little bit of friendly competition with the coloring sheets. All of my children are very and I do mean very competitive. I can't imagine where they get that from.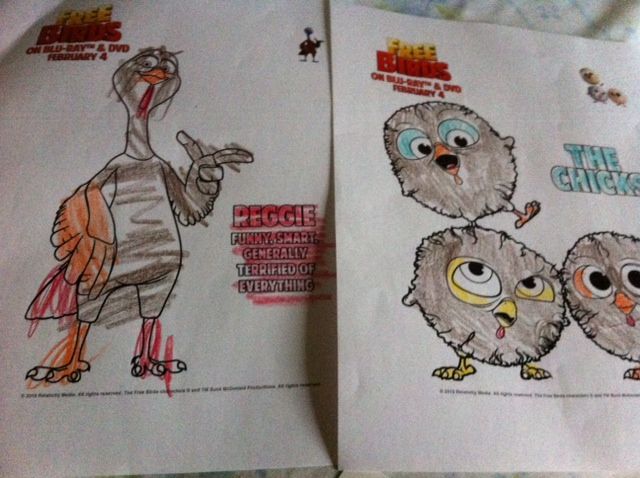 In the end everyone won because I had stickers for each of them. Pizza Hut arrived just in time for the movie funtivities. Don't you guys just love pizza delivery. The pizza more than met our expectations. After following along with all of the tweets I think I will try a Pizza hut dessert pizza very soon. There were lots of people talking about it.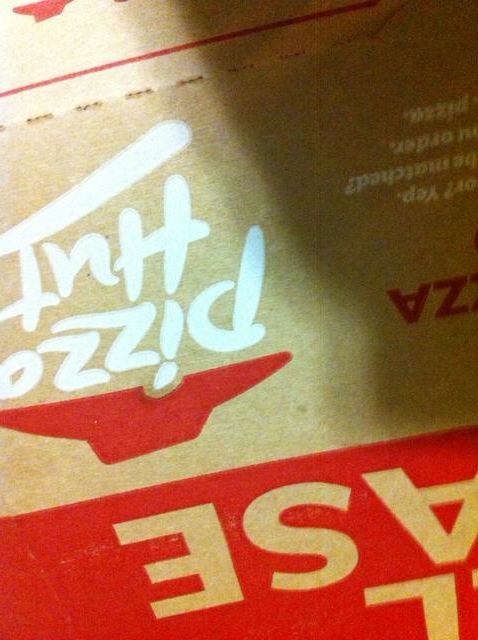 The kids got a pepperoni and Mama got a supreme. I love their thin crust. It was more than delicious. Once our bellies were full it was time to settle in for the movie.
Of course no movie night is complete without the popcorn. We used the great cups provided in our treat bags to make popcorn cups for everyone. The popcorn was really a huge hit with all of the snacky kids .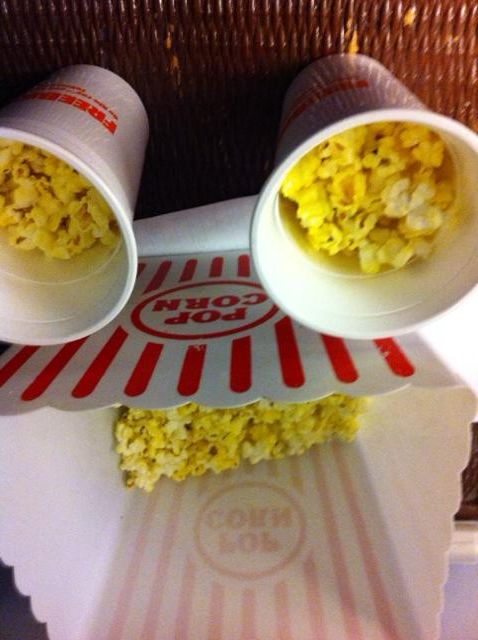 Now that our bellies were bursting we were ready to snuggle and watch it . I loved all of the other ideas shared by other Inside bloggers. Everyone had a reallly good time I think.
He sure did!
He loved it! As a matter of fact he is already planning the next movie night and asking about them turkeys.
We have some very fun
coloring printables and even a DVD Giveaway
for Free Birds. Be sure and drop by to print them or enter! Here is a coloring sheet of our favorite turkey Reggie. You can
print
it here.
Check out the hashtag
#FreeBirdsDVD and #FreeBirdsPizzaParty
for some more Free Birds fun.
"
As a Fox Home Entertainment Insider I was provided with a complimentary Free Birds party pack for participation in the Twitter Party. Even so all opinions are my own and honest. We had a lot of fun!"