Today we are sharing some fun paper plate craft activities you can do this week to celebrate Dr.Seuss. In preschool Dr.Seuss's Birthday is a big event. We like to find fun ways to celebrate and teach the kids. We have three paper plate art activities your kids are sure to enjoy. These are all easy activities and can be completed fairly quickly.
Lorax Paper Plate Craft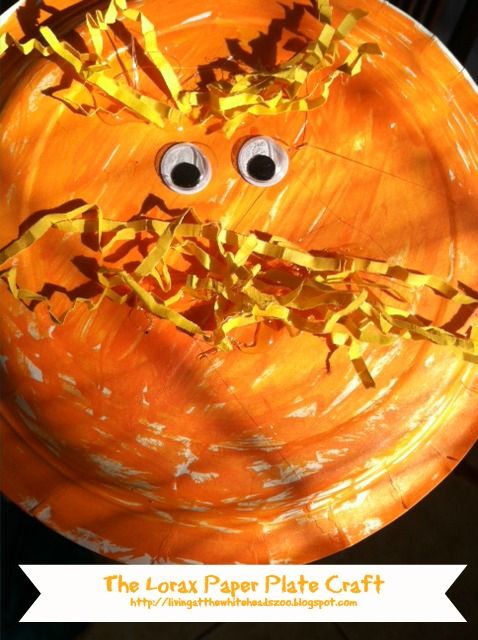 small dessert size paper plates
orange markers or paint pens (only if using white plates)
google eyes
yellow Easter grass
glue
You can simplify this craft by using already orange paper plates. Our store did not have orange paper plates so we decided to turn this into an art activity and let the children use orange paint pens and markers to color a white plate. Add eyes you can use self stick eyes or glue them on. Glue on the eye brows and moustache (Easter grass). The kids may need some help with the Easter Grass.
Cat in the Hat Paper Plate Craft


white dessert paper plates
black paper strips for whiskers
black paper triangle for nose
2 google eyes
1 styrofoam cup hat decorated
glue
black marker for mouth
I love the way our cat and the hat plates turned out. This project should be done in 2 parts or days. The first part is to make the hats. . See our tutorial on how to make them here
Dollar Store Dr.Seuss Hats Kids craft
. They really only take a few minutes to make and I think they are the best part!
Now that you have finished your hats glue them to the top of a paper dessert plate. I did this myself to keep the kids from accidentally messing up their hats.
Next, glue on eyes, nose, whiskers.
Lastly, draw a mouth. That is it!
Thing 1 Thing 2 Paper Plate Craft


red or white paper plates
blue tissue paper
google eyes
glue
white paper
scissors
black marker
This is our last paper plate craft for kids. This activity can be simplified if you buy red paper plates or you can let them paint or color the plate the way we did in the Lorax plate craft. Either way they turn out cute. Give each student blue tissue paper cut into various sized strips. Have them get out their gue sticks and glue them to the top of the plate for the hair. Next, give them the eyes to add to the plate.
Cut out white circles to add to the bottom of the plate. On each circle write Thing 1 or Thing 2 in black thick marker. We did 1/2 and 1/2 for the class.
That is it! Do you have a fun paper plate preschool craft? Share it with us we'd love to try it out. Looking for more kids activities? You might also like this
Dr.Seuss Hat Pinata tutorial
. I'm betting the kids would love this.