The one thing I like about winter is the food. Soup, Stew , Chili, good warm stick to your bones food. Then I love that you can cook many of them foods in your slow cooker. You guys know I love my slow cooker. When I can break that bad boy out I do it. Makes my life so much easier when I do not have to stand over the stove or worry what's for dinner when I get home in the evening. Doesn't it you? Today we're sharing a favorite of mine and I'm even going to tell you my secret ingredient .
Homemade Vegetable Beef Soup
is always a winner at my house.
Slow Cooker Vegetable Beef Soup Recipe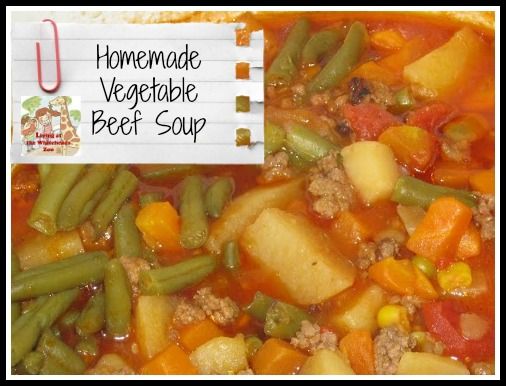 The great thing about a pot of soup is you can usually omit and substitute just fine. I for instance do not like corn so when a recipe calls for that I usually find something that will work in this place.
Items You will Need:
slow cooker
knife for peeling and chopping potatoes
cam opener
Ingredients you will need:
1 lb. ground beef browned
3-4 Idaho potatoes peeled and diced (see photo)
2 -15 ounce cans of mixed vegetables or one large can
1 -15 ounce can of green beans drained
2 cans of diced tomatoes (15 ounce cans)
salt and pepper to taste
a teaspoon of sugar
and my secret ingredient one can of tomato soup (10.75 ounce)
What you Need to do:
Brown your ground beef and drain off the grease. Add it to your slow cooker .
Wash, peel and dice your potatoes. Add them to your slow cooker. We like a lot of potatoes. You can use fewer if you do not. Or if you don't like use fresh you can use canned.
Drain and rinse your mixed vegetables and Green Beans. Add them to your slow cooker.
Add your tomatoes and tomato soup to slow cooker.
Now add your salt , pepper and sugar.
Give a good stir and close up your slow cooker.
Cook on high 4 hours or low 6 hours.
This soup will warm you down to your toes and is so good. I like to eat this with hot bread and butter. You might also like our
Cheaters Brunswick Stew Recipe or Sausage Stew.
Do you have a favorite soup recipe?