It took me a long long time but I finally started playing with my
Silhouette Portrait
and I LOVE it. I may think vinyl is the best thing since sliced bread. I have dozens and dozens of projects pinned, ideas in my head and projects to do. Now grant you I'm not as crafty as some . I do love it when I deem it a successful project. This weekend I played with vinyl and embellished some bathroom soap bottles.
These are just your $1 hand soaps that you can pick up pretty much anywhere. The first thing you want to do is remove the store labels from them. I did this and it left things sticky sticky. I had no idea what I needed to remove the sticky so I scrubbed them in the sink with hot water and a scrubby pad. I've since learned that you want to use Goo Gone and it will come off easily .
Once you've cleaned off the labels it is time to decide what you want on your soap bottles. One I did a simple monogrammed W "for Whitehead" . Then I designed a label with a palm tree that says "Please Wash Your Palms."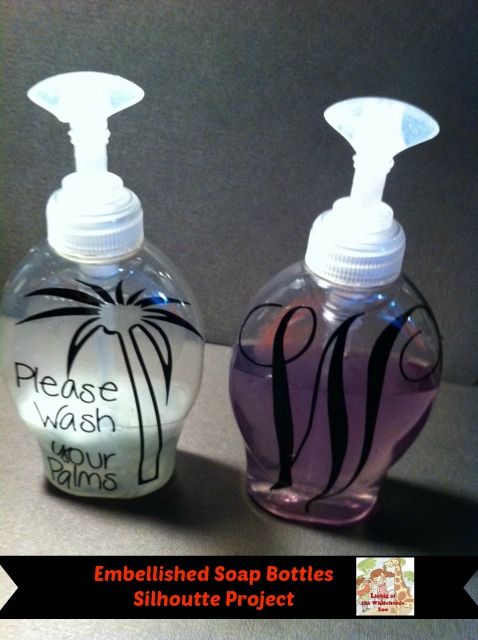 How to embellish a soap bottle with your Silhouette.
One of the things that took me forever to discover with my Silhouette was how to add my own image versus purchasing it from the Silhouette store. This process is really so simple. I found this great
tutorial
on doing this on Pinterest and on ExpressionsVinyl.com.
I used that tutorial to add a palm tree clip art image into my silhouette library and then trace and cut it. I then selected the text option picked out a font and typed "Please wash your hands " . At first I tried to line everything up but when I printed it how I had things was to spread out for the bottle. I cut each word out one at a time and transferred to the bottle.
The monogram initial was easy. I selected the monogram font, used the text option to type the letter "W" , eyeballed the size to where I wanted and it was ready.
Once everything is sized how you want , and you have traced cut your image you can send it to your silhouette to be cut. I use a mat with my silhouette and just make sure that the vinyl is stuck down to it really well. I use oracle 651 vinyl for my project.
The only other thing you need is the transfer paper.
Okay but we are getting ahead of ourselves. First, get you mat and vinyl ready and go ahead and select cut it. Your image should be cut on the vinyl. Sorry my photos of this step did not turn out. You can now remove the vinyl from the mat. I find it easier to take a pair of scissors and cut around my image so I don't have a lot of extra vinyl to deal with.
Now you are going to gently peel the vinyl off leaving your design on the back part of the vinyl . Hope that makes since It took em a bit to get that.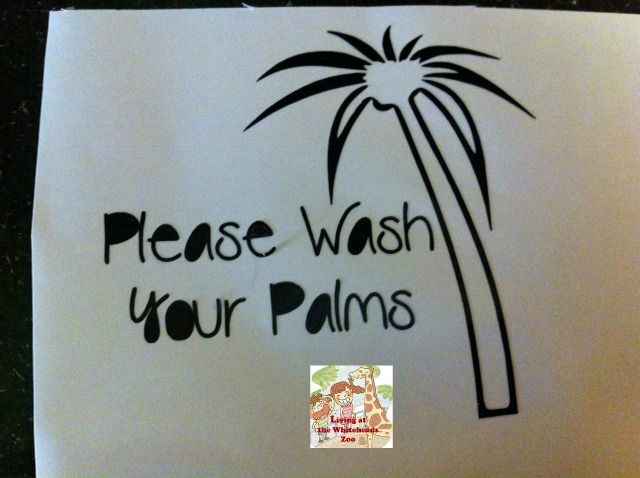 This is what you'll have once you peel off the excess vinyl. Now you need to peel out your letters see the P, Y, O, A they all have centers you do not want on your final image. I find a toothpick works great for this step.
Once those are removed you are ready for your transfer paper. Cut a piece to size and layer it over your vinyl . Like this...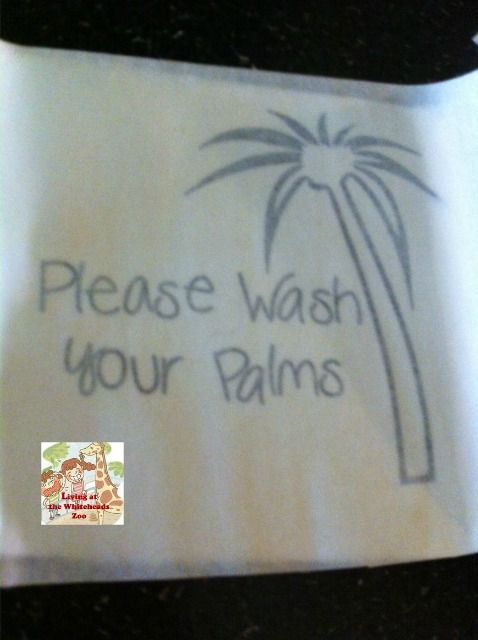 Now you want your image to go from the vinyl to your transfer paper. You can use your finger, a credit card, coin, or silhouette had tools. I just rubbed it with my finger and it worked fine. When I made ornaments I found I had to use a credit card.
Once it is on your transfer paper it is ready to go onto your soap bottle. I had to cut it down to get it to fit. So, I cut each word out and stuck them one a time onto the bottle. Then again rub the back of the paper so the image is rubbing off onto the surface of the bottle.
That is it you are done. You should have something that looks like this.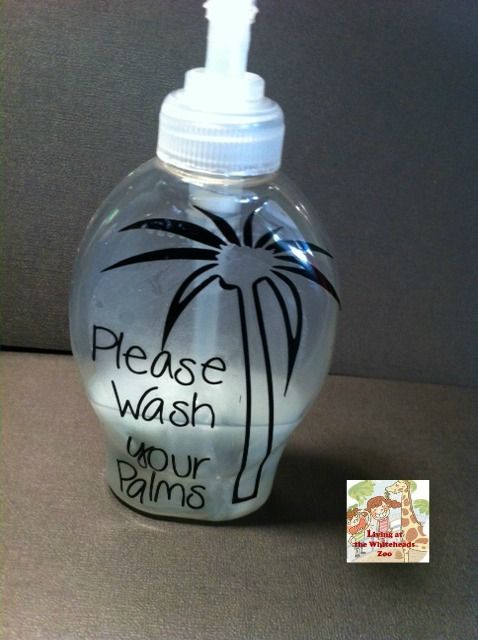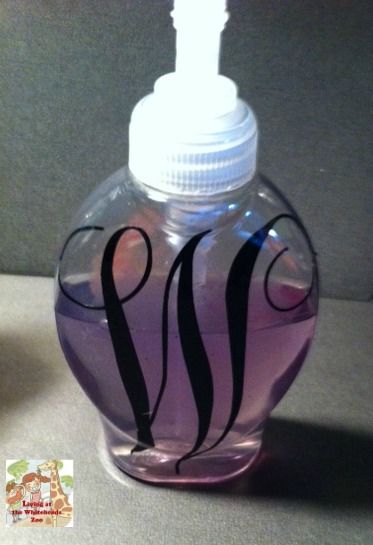 Now there are all kinds of cute designs and images you can find on Pinterest. I could make a different soap bottle for every month. Hmm Maybe that is an idea . I think these make great and inexpensive gifts too! I love them. Don't mind the half empty bottles we've been using our soap ;) I buy hand soap in bulk at Sams so I'll just fill them back up when they are empty.
"This post contains affiliate links. Click on them and make a purchase and we receive a small commission."