Red Gold Tomatoes
is celebrating the comfort of lasagna this winter . Have you ever made lasagna? Does it seem a bit intimidating to make? I'm here to tell you it is really easy. Specially with the "
All in one" lasagna recipe
using dry noodles. Red Gold provided us with an easy recipe and gift pack for review. Our bellies could not be happier that they did .
About Red Gold:
Red Gold Tomatoes have been around since the 1940's. These tomatoes are homegrown in the Mid West. Red Gold produces premium quality canned tomatoes and tomato based products for retail, food service, private brands and club stores.
One of the great things about this lasagna is how versatile it really is. You can mix it up by adding different veggies or meats. I like eggplant sliced and hid in my lasagna but the kids refuse to eat if if I do that. You guys know I have a picky crew. You can go meatless, or load it up with veggies. Or even do chicken or beef or just leave it just the way it is. We did our lasagna with half ground beef and half cheese. That way my picky kids would be pleased.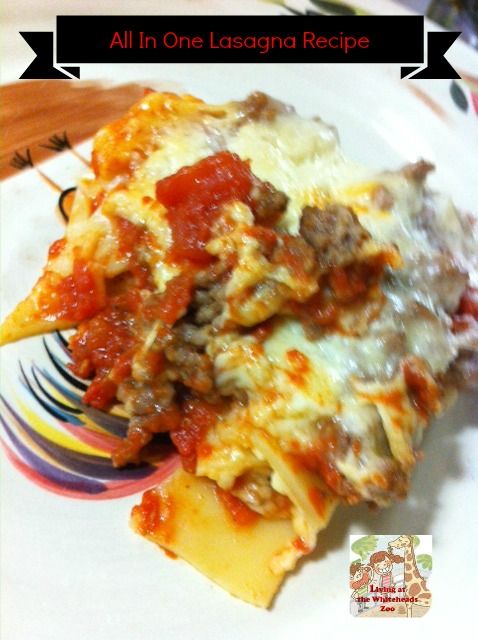 Red Gold All In One Lasagna Recipe
Ingredients you need:
1/2 cup water
1 (28 ounce) can crushed tomatoes (we used Red Gold)
2 (14.5 ounce) cans diced tomatoes with garlic and oregano (we used Red Gold)
1 teaspoon Italian Seasoning
salt to taste
1 (16 once) box traditional lasagna noodles
1 (15 ounce) carton low fat ricotta cheese (I omitted this)
3 cups shredded mozzarella cheese
1/2 cup grated Parmesan cheese
and I added 1/2 lb browned ground beef or I love it with Italian sausage
Preheat your oven to 350. In a large mixing bowl combine water, crushed and diced tomatoes, Italian seasoning and salt. Cover the bottom of a 9X13 baking dish with 1 1/2 cups of sauce. Arrange 1/3 of noodles on top of sauce slightly overlapping. layer with cheese , meat, and more sauce repeating layers until you reach the top and final layer which is cheese. (I only put beef on half of the lasagna)
Cover with foil and cook for 1 1/2 hours. Let stand for ten minutes before serving.
I even made it easy for you to
print the recipe
if you'd like. You might also enjoy our video of me whipping up a batch for you guys to see. If you don't follow us on You Tube we'd love for you to check us out there.
Looking for more great recipes you might like our
one pot skillet lasagna or our slow cooker spaghetti sauce.
Do you have a favorite lasagna? Tell us about it so we can give it a try too.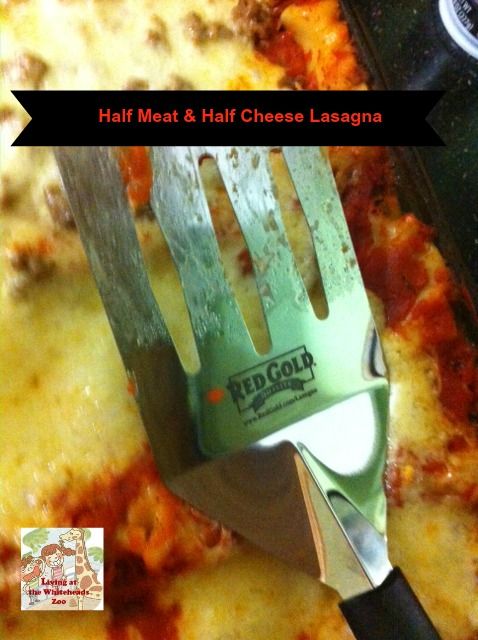 I made a video as I put together this easy recipe. Just a step by step of the recipe above. You might like to watch it .
Stay connected with Red Gold on
Facebook
/
Twitter
/
Pinterest
Enter the Red Gold "Simply Fun, Simply You" Lasagna Sweepstakes starting today January 13th and continuing through February 3rd.
Red Gold will also be sharing additional delicious gourmet lasagna recipes and cooking tips on Facebook, Pinterest, Twitter, You Tube and Instagram. Use the
#RGLasagna
"
This post was sponsored by Red Gold Tomatoes. Even so all opinions shared are our own."