"
I participated in a campaign on behalf of Mom Central Consulting for Sturm Foods, Inc. I received a promotional item and product samples as a thank you for participating
"
Winter is the perfect time to cozy up with a warm drink. We all have different taste in my happy home which is why I absolutely love single cup portions. We received a variety of
Caza Trail & Grove Square
samples to review. I have to admit the thought of a cup of french vanilla cappuccino in the morning almost gets me right out of bed. There is just something about the delight in that cup that starts my day on a happier note.
French Vanilla Cappuccino
may be the best thing since slice bread. It is my new favorite treat. I like a spoonful of sugar, a tad of cream and a squirt of whip cream to top it off. Of course you don't have to have the whip cream its just an extra treat. And trust me my friends it is a treat.
The French Vanilla Cappuccino is creamy and smooth. Now that you know my favorite indulgence lets talk about a treat for my daughter.
She loves hot chocolate on a cold winters day. The only one of my three kiddos who does . She gets it honest I've always had a love for the hot creamy goodness too. We usually stop and get some from our favorite local coffee shop on a really cold day or important day at school. The only thing is at $3.00 a cup stopping is not very friendly to my budget. With single cup portions we're able to make hot tasty treats at home anytime we want them.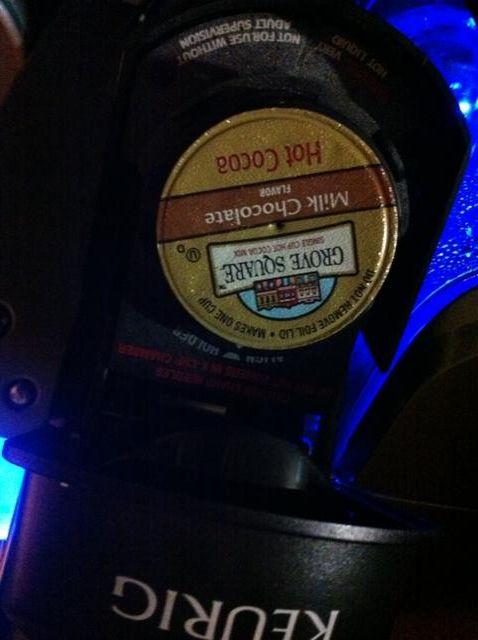 Grove Square Hot Chocolate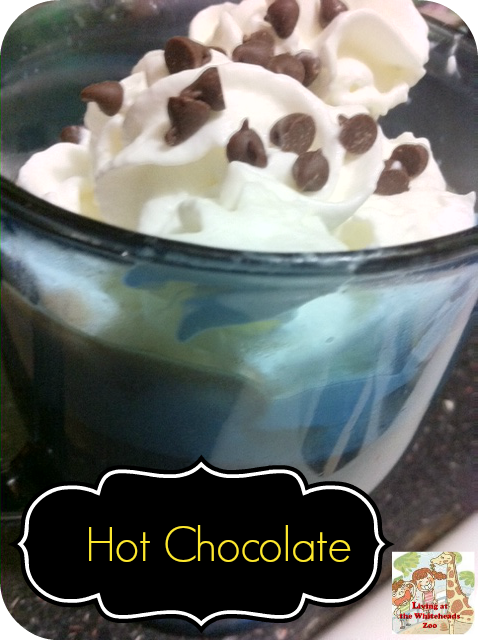 Hot Chocolate Treat
Here is a what a cup of hot chocolate looks like at my house. Add some whip cream and chocolate chips and it is oh so good. Or add some marshmallows and give it a stir. Our box of
Grove Square hot chocolate
came with dark hot chocolate, milk hot chocolate and peppermint. We enjoyed all three of them but our favorite is the milk chocolate.
Lastly, I want to share the
Caza Trail Dark Roast
. This coffee is bold and rich. Just the aroma makes me smile. This is more my Mom and Grandmas blend than mine. Luckily for me though I get to share a cup of coffee with them every afternoon. Thanks to K-cups I can whip up my favorite cappuccino while they enjoy a cup of dark roast. That makes for a nice afternoon on the porch with chit chat and laughs with the two ladies I adore. Coffee time is one of my favorite times of day.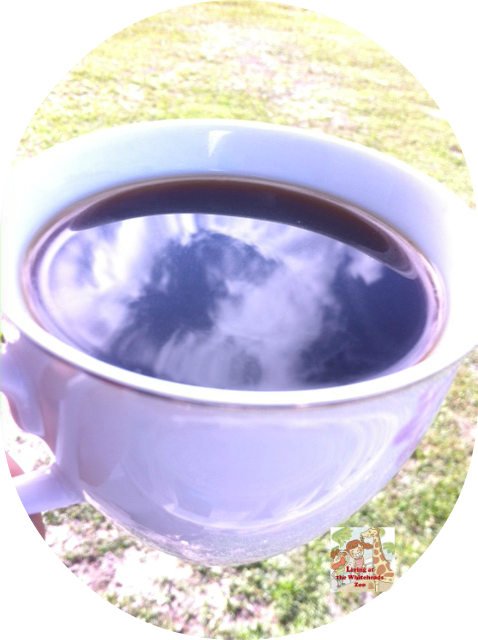 Caza Trail Dark Roast
We had no issue with our k-cups . They all worked as they were suppose to. They all had their own unique flavor and aromas.As I spoke of above. I think you would be happy with any of them depending on what your own taste are. Our family was quite pleased with all that they had to offer.
Win:
One of our readers will win one box of Donut Shop Coffee.(continental US only and must be 18+) Contest closes 12/16/13 winner will receive coffee mid-late January due to the holidays.
a Rafflecopter giveaway
"
I participated in a campaign on behalf of Mom Central Consulting for Sturm Foods, Inc. I received a promotional item and product samples as a thank you for participating
"