Ready or not the holidays are here knocking at our doors. If you are like me no matter how ready you think you are there is always one or two things that will still sneak up on you last minute. It just wouldn't be the holidays without some hustle and bustle. One holiday item I love love is wreaths. I have entire Pinterest Boards of just
wreaths.
Today I'm going to share a
Santa Wreath
that I made after spying a tutorial for it on Pinterest. I just love all of the creative happenings you find at Pinterest. Holidays always bring out a bit of crafty bug in me so I was excited about this project.
With all of them on Pinterest I could make wreaths for days and days . One for everyday of the year. But of course my budget wouldn't let me do that nor would I have the storage for all of those wreaths. One of my favorite favorite creative wreath makers is Baby Rabies. Her
Santa Tulle Wreath
was the inspiration for this one. BabyRabies.com has great tutorials and photos you'll be so inspired by her craftiness. I could spend hours looking at the crafty designs and pinning away.
Mine is a little bit different but not very much. I'm not going to share the step by step today because you can find such a great tutorial on the
Santa Tulle Wreath Post
. I will tell you that I used 50 yards of white tulle and I think I could a lot more. I used a green wire wreath which was only $2 at Joannes. I had to wrap the entire wreath first to cover the green. Next, time I would just pay a little bit more and get the white Styrofoam wreath.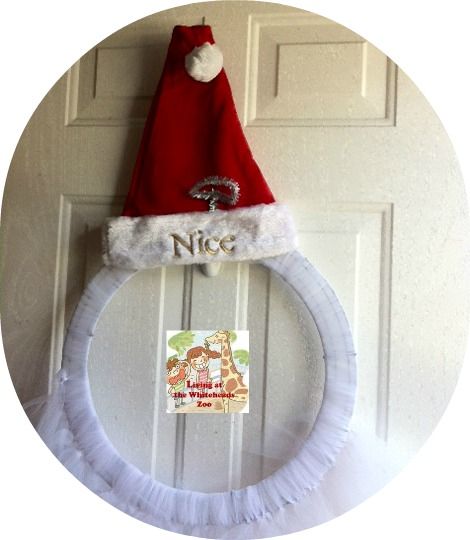 I picked up the Santa hat at Walgreens for $3. I like the addition of the halo and Nice. I thought that was very fitting for our welcome wreath.
What do you think?
Have you made anything inspired by Pinterest this holiday season? Share it with me. Drop by my
facebook
page and leave a photo or link. Or tell me all about it here. I'd love to join in the fun with you.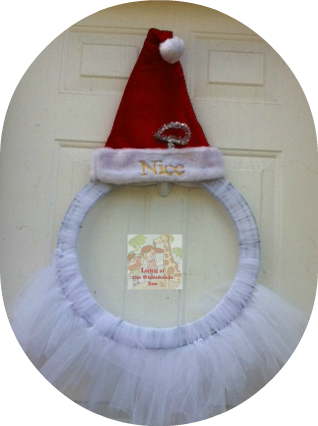 Thanks for checking our our crafty skills . *Side Note I did have to slide pat of a recycled pizza box (the cardboard ) up the back of the Santa hat and glue in to make it stand upright.