My daughter has read and is a fan of the Percy Jackson series. She says the books are amazing. Next for the series was a movie of course. Do you totally love it when they turn your favorite book into a movie/? I always read the book first, my friend says watch the movie first that way you won't be disappointed when it is different from the book. What do you think?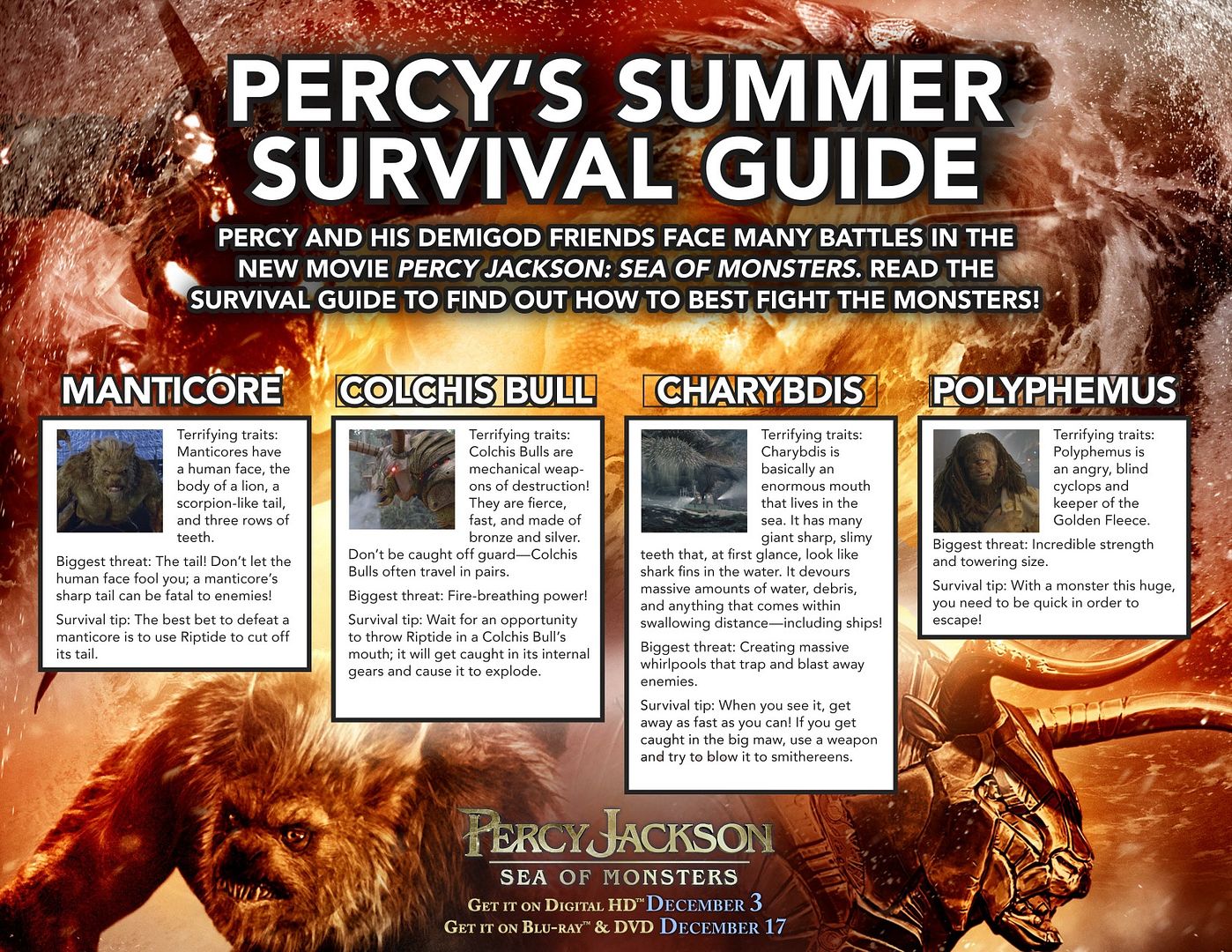 How to survive he summer with Percy Jackson. We have some fun activity sheets for you guys today. You can print them out and have a blast PJ style.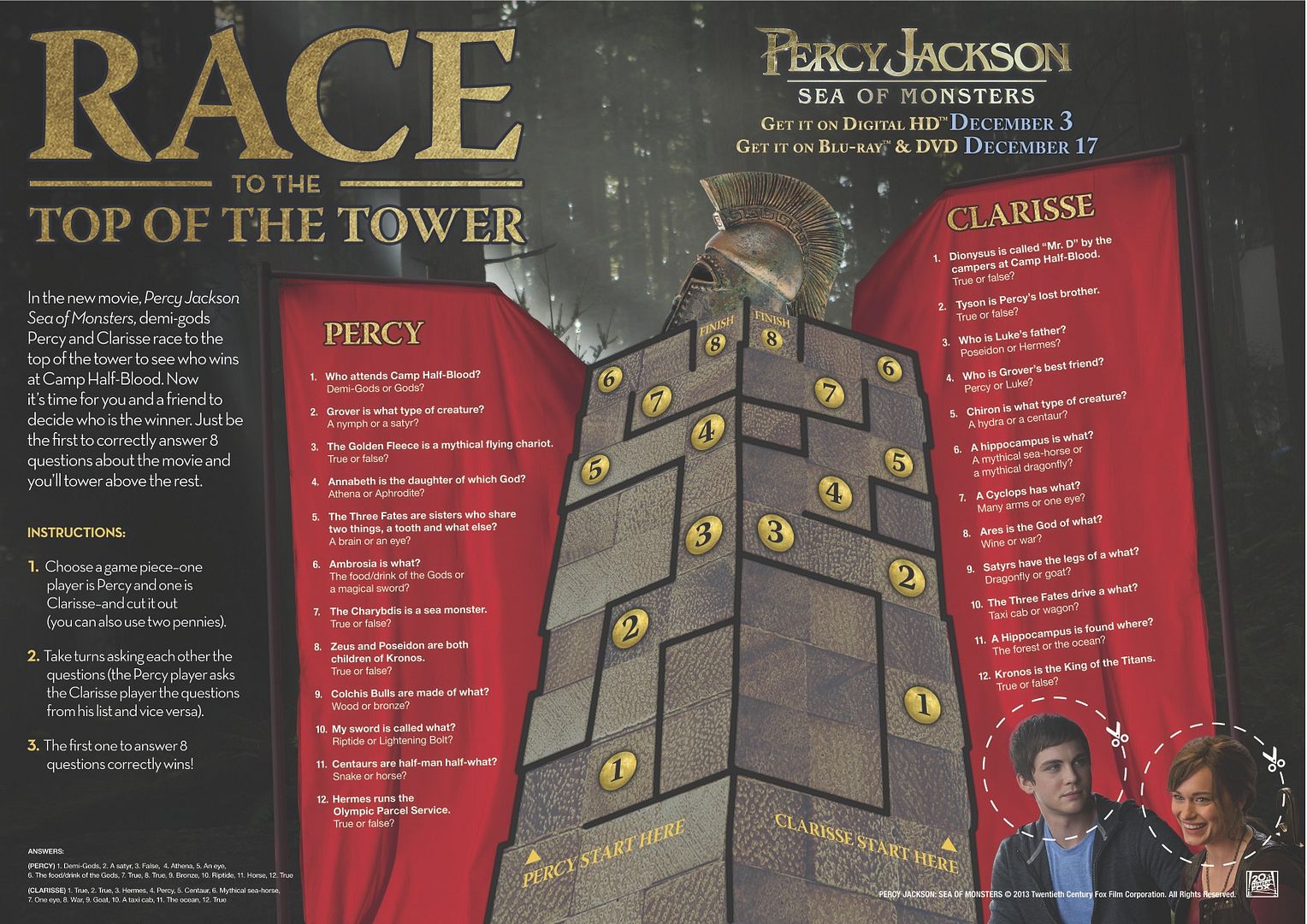 Race to the Top of the Tower looks like a game even the boys will enjoy. In the movie Percy Jackson Sea Monsters Percy and Clarrise race to the top of the tower to see who wins at Camp Half Blood. Now its your turn to see who will WIN.
Prepare for the movie with this go to guide with all of the information you need about Sea Monsters.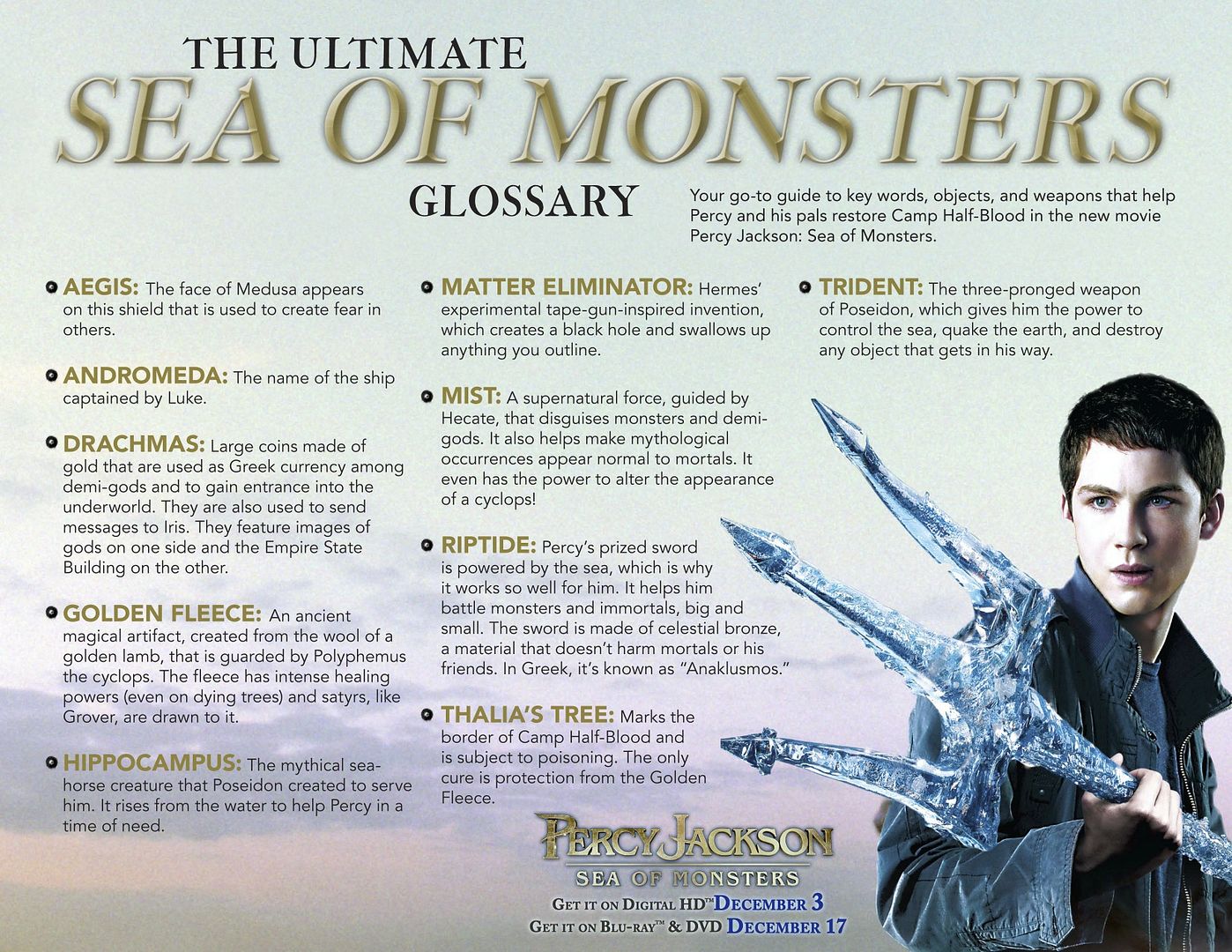 Need some help with what the heck they are saying ? The ultimate Sea of Monsters Glossary should lend you a hand .


Percy Jackson Sea of Monsters
Arrives on Blu-Ray December 17th
EXPERIENCE THE MOST HEROIC ADVENTURE
OF THE HOLIDAY SEASON
Join the Quest of a Lifetime, Packed with an
All-New Motion Comic and Collectible Cards, on 3D Blu-ray
Deluxe Edition December 17 and Digital HD™ December 3
The magical, mythical adventures of teenager Percy Jackson — son of the Greek god Poseidon — continue in this heroic, action-packed thrill ride! Out to prove he's not just a "one-quest wonder," Percy and his demigod friends embark on an epic, cross-country journey into the treacherous Sea of Monsters, where they battle terrifying creatures, an army of zombies, and the ultimate evil. With time running out, Percy must find and bring home the fabled Golden Fleece, which has the power to save his world...and save us all!
ABOUT TWENTIETH CENTURY FOX HOME ENTERTAINMENT
Twentieth Century Fox Home Entertainment is the industry leading worldwide marketing, sales and distribution company for all Fox produced, acquired and third party partner film and television programing. Each year TCFHE expands its award-winning global product portfolio with the introduction of new entertainment content through established and emerging formats including DVD, Blu-ray™ and Digital HD™. Twentieth Century Fox Home Entertainment is a subsidiary of 21st Century Fox.
I can't wait to add Percy Jackson to our video library here at home. What about you.? Enjoy the printables and check back in. We're going to be giving a way a copy of Percy Jackson on blu-ray DVD soon.
"
As a Fox Home Entertainment Insider I receive promotional items and DVDS complimentary for reviewing purposes . All opinions shared are my own. "