Food, I love good food don't you? Shopping for food not so much. Grocery shopping is very seriously one of my least favorite things. What would you think if I told you there is a way to have fresh food delivered right to your front door. Not only that it is separated into three easy meals with recipe cards for you to give a try.
That way is HelloFresh
. We received a box from
HelloFresh
in conjunction with
Mosaic Reviews
to sample and share our thoughts with you.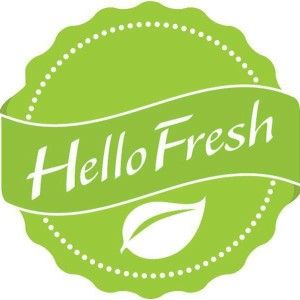 ***There may be Affiliate Links in this post. Please see our disclaimer for more information. Thanks ***
What Is HelloFresh?
HelloFresh is a weekly subscription service. 3 easy meals with recipe cards and fresh ingredients are delivered right to your door. All you have to do is cook and serve them to your family. Here is a first look at what came in my box.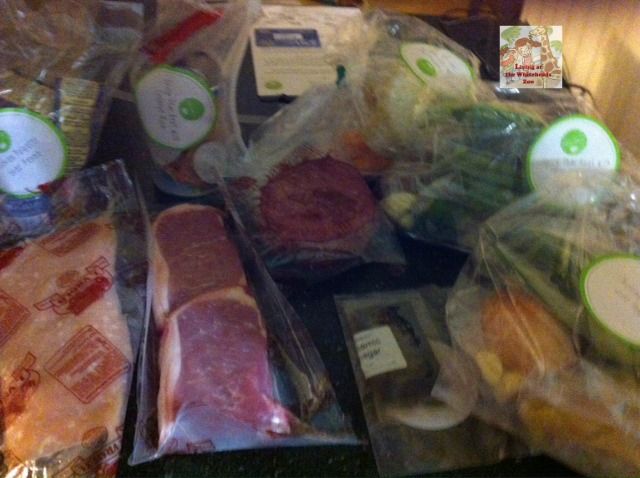 HelloFresh Classic Meal Box for 2.
What are your options?
There are currently 2 boxes for you to choose from. The Classic Meal Box which is what I received or the Vegetarian Box. The Classic Meal Box is $69 for two or $129 for 4 and the Vegetarian Box is $59 for two and $109 for four.
How does a subscription work?
You go online and create your account. Your first box you will be charged for right then. After that each box will be charged the Thursday before your next delivery. You must use either a credit card or paypal to set up your payments. I used paypal and it was really easy to set up.
Deliveries are always on Wednesdays which makes it easy for you to remember. You don't need to worry if your not not home when it arrives. These boxes are packed in some serious ice packs. My box arrived (and I'm in the hot sunshine state of Florida) and it was not even slightly thawed. Fed Ex delivered right to my front steps.
If you choose the Classic Meal Box like I did you will have the availability of choosing 3 out of 5 meals. Just go into your account page and select the meal choice tab. We received a beef, pork and chicken meal with our box which was a really good fit for my family. At this time choosing is not an option for the Vegetarian boxes.
Meal 1 Classic Box Hello Fresh
What I Liked about our Box:
I love how each meal is separated , clearly labeled, and ready to go.

I like the easy to read recipe cards.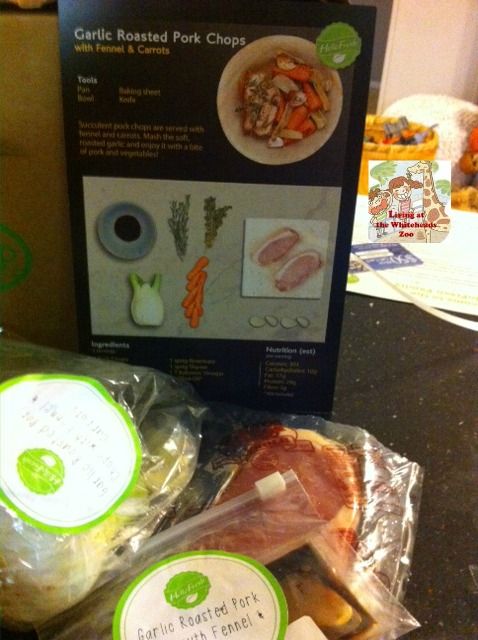 I like that the food is fresh.
That it encourages one to try new recipes and provides an easy way to do so.
Love that it is delivered right to my door and that means no grocery store for me.
We tried Three yummy meals. All new recipes to our family . Seriously, I felt like a gourmet diva setting these plates on the table. Take a Look...



Each meal took me no more than
30-40
minutes to prepare. Even with chopping and washing the veggies and stopping to read the directions it did not take me long. I definitely did have to follow the steps because there were foods we had never tried (like fennel). I think the fresh ingredients and herbs makes a huge difference in taste . I did have a bit of a disaster with a jalapeno pepper . Ouch! Not sure another one of those will be invited into the kitchen. Other than that I was really very happy with my HelloFresh Box. I received the box for 2 and there was plenty of food to feed myself and kids (two teenagers and a preschooler). However, they did not all try everything. They are a picky lot to please. We did have some leftovers which made nice lunches for Mama during the work week.
What Didn't Work For Me.
The one thing that did not work for me would be the expense. I do not think that is a horrible expense considering they take the bother of grocery shopping, and deciding what I'm going to eat for the week away. That is definitely a huge time saver for me. It is just an expense I can not currently commit to on the budget I have.
We
definitely
give HelloFresh a thumbs up for a great subscription service and product. We were pleased with the quantity and quality of our box. Visit the
Hello Fresh Facts
page if you still have questions.
Try It
If you think this service might be a good fit for you head on over to the website and sign up Use code 5JXQWG and you will receive $20 off of your first box.


Connect With HelloFresh: