Have you ever tried to learn a new language? Or better yet helped your children learn a new language? My fifteen year old recently tried to tackle Spanish via Florida Virtual School. It was an educational disaster . Bless his heart Spanish was not his cup of tea and by the end of his trial run with it I was ready to pull both his and my hair out. Instead we are Spanish drop outs. This month I've gotten to review an online company that makes learning a language easy and is very interactive.
Babbel
offers 13 languages from English to Indonesian. Oh how I wish I had stumbled upon Babbel months ago when we were trying to tackle virtual Spanish.
I'm not going to lie I have two years of High School Spanish and I'm pretty darn sure I can not tie a full sentence together. Of course High School for me was ...well a LONG time ago. I received a free month of Babbel to facilitate a review and instead of going back over Spanish I decided to be a bit different and try to learn
French
.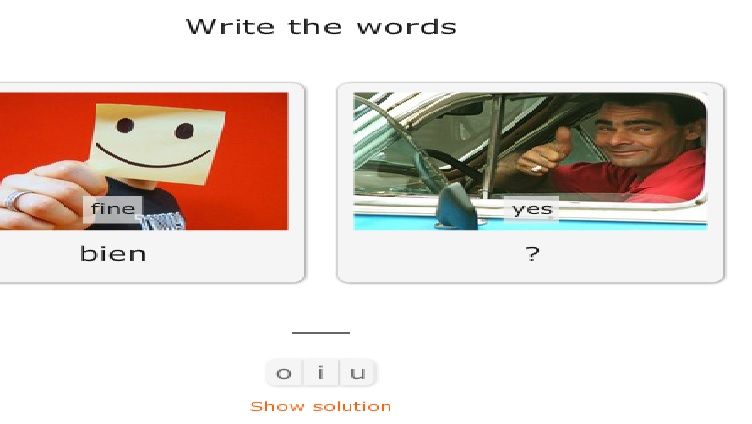 What did I think? So, far I've found it to be an amazing . I love that it throws you right on in there. There are several ways to learn the word. You see it, you hear it , you write it, you spell it ,you repeat it , use it in conversation and by golly you might just get it!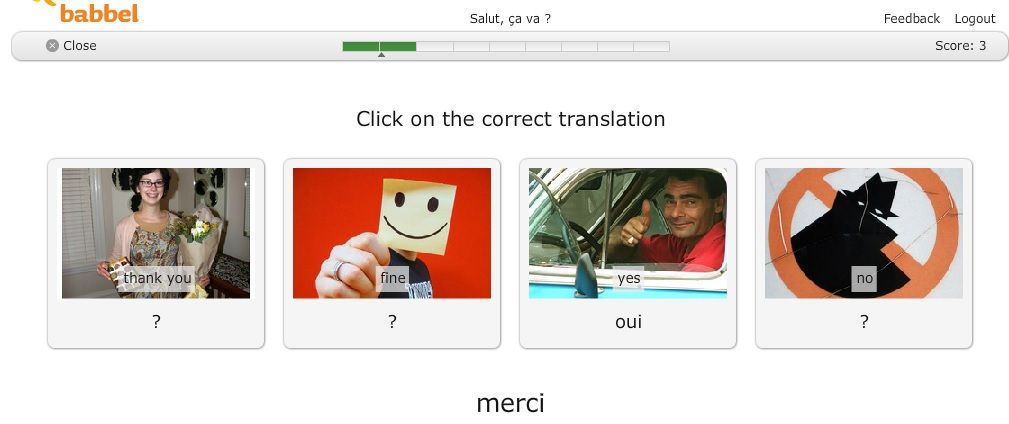 As a Babbel user you are able to use both online and mobile apps to do your lesson. Babbel has features for your iPhone, iPad , and iPod too. There are also apps for your kindle fire, android and windows 8. You have all your bases covered for sure. Babbel's primary learning method is to get you to handle re communication and as quickly as possible. The repetition of each skill really helps me a lot. I'm so bad about thinking I have it and then in a just a few minutes realizing I do not.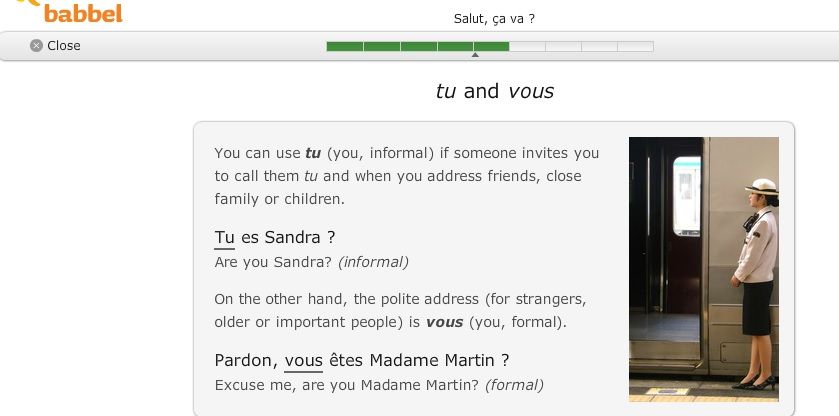 Each course is put into units. There are several steps in each unit. There are reviews ever few lessons which I think are very helpful. I actually carried on a computer conversation today with my computer screen in French. I'm so proud of me. You are scored at the end of each lesson that shows how many you got correct , your errors and your Babbel points.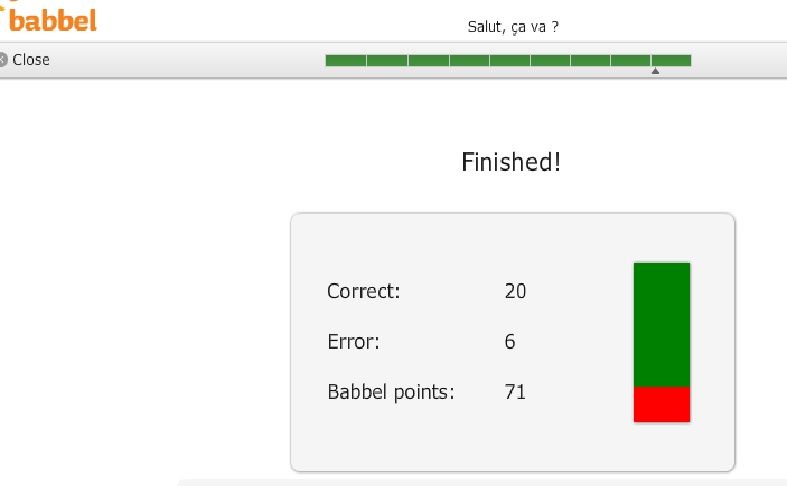 This was my first lessons with babble.
I just finished a lesson and scored 83 points so I am improving. I recommend Babbel to anyone who would like to try learning a second language. It has been very user friendly and encouraging. The program is easy to navigate through and their is always a HELP option when you get stuck.
Win: 1 of you will Win (2) 1 year subscriptions to Babbel
Contest will run from 12/8 12:01 am EST to 12/21 11:59 PM EST
US only Just fill out the rafflecopter entry form for a chance to Win. Good Luck!
a Rafflecopter giveaway
" We received compensation and a complimentary subscription to Babbel to facilitate this review. Even so all opinions were my own. A positive review was not guaranteed."