Do you need some decorations for Thanksgiving? I have tons of Halloween and Christmas, and then very little Thanksgiving. I was browsing around
Pinterest
y'all know I love that place when I stumbled upon a really cute Turkey Wreath. Of course I did what you do and pinned it for later. Well later came and I had to make this adorable tulle Turkey Wreath. You can find the
original tutoria
l and all kinds of tips on making Tulle Wreaths at
Baby Rabies
. I have like a zillion things pinned from that site definitely
crafty coolness
.
How To Make A Turkey Wreath
What you Need:
1 foam wreath
Brown Yarn
Red Felt
one cone
yellow paint
3 rolls of Tulle assorted colors (about 4 yards each)
white foam balls (about ping pong ball sized)
2 google eyes
hot glue gun
What to do:
Wrap 1/3 of your wreath with brown yarn. I glued the beginning end and the ending end down with hot glue just to make sure it stayed in place. Wrap it nice and tight.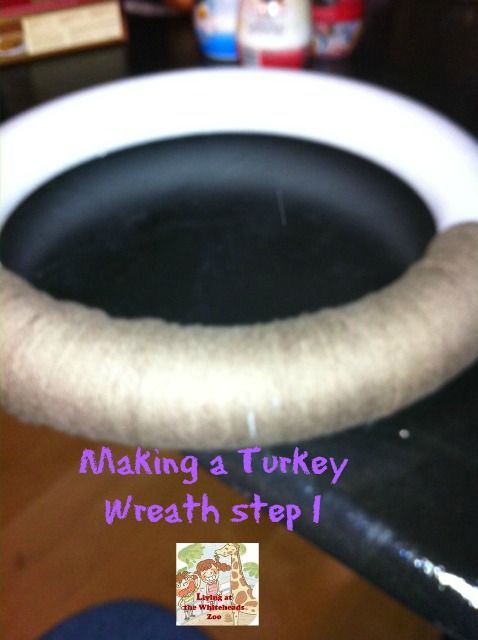 2. Cut your Tulle in Pieces and knot on your wreath. It took me a couple of minutes to figure out what I was trying to do here and to make it work for me. The best method for me was to pull the tulle from the roll to about my elbow and cut. Then wrap it around the wreath and knot it. (like this)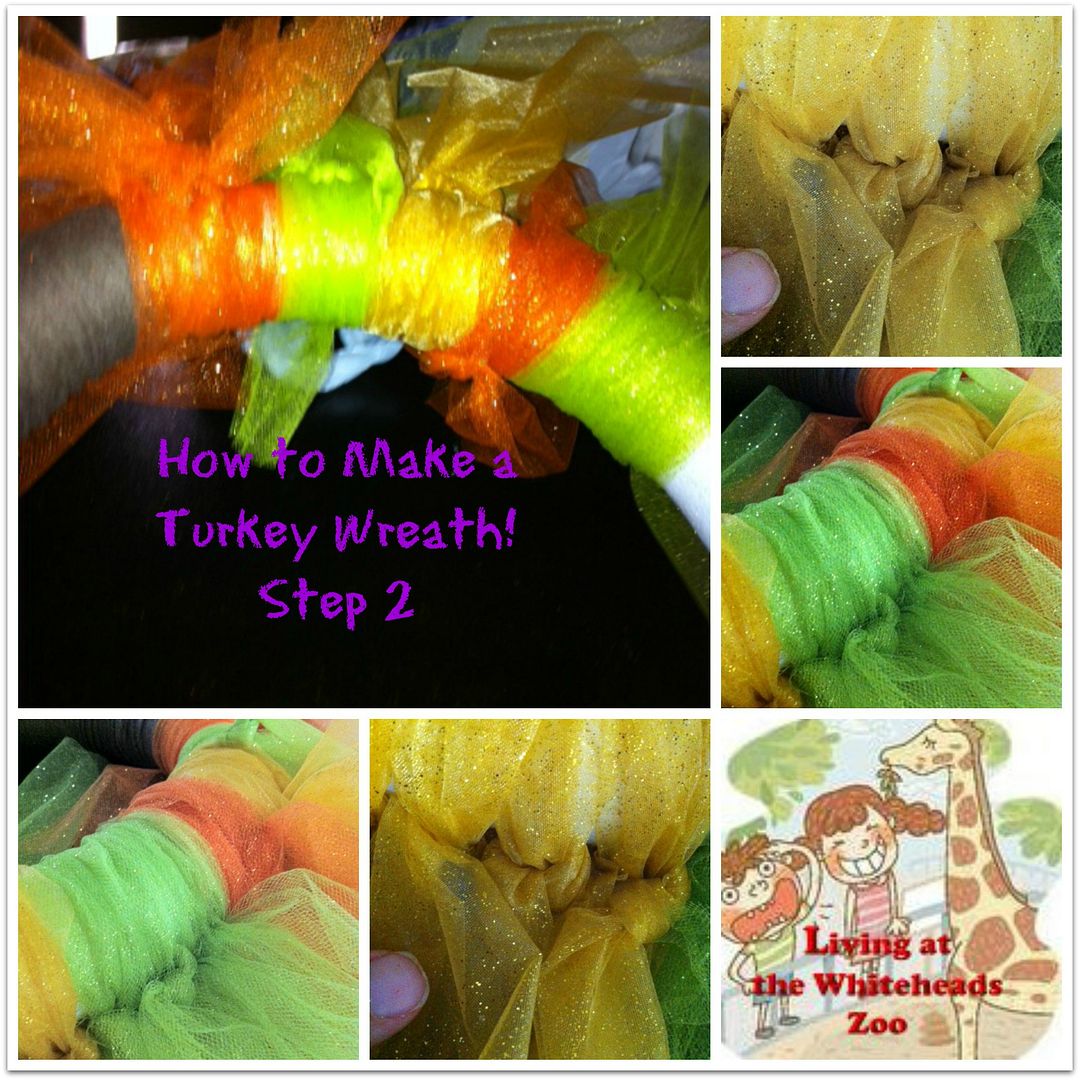 I originally thought I would have Tulle left over but it took all 3 rolls so over 12 yards of tulle on this wreath. You could add even more colors if you'd like or keep it at 3. However you want it to look. My Tulle had glitter in it which I love the sparkle but it did get all over the place when I was wrapping the wreath.
3. The eyeballs. Take your two white foam balls and glue some google eyes on them. (I used hot glue) Then Glue your eyeballs onto the wreath. I originally tried to stick the eyeballs on to a tooth pick and then stick the toothpick into the wreath but that didn't work well for me. Hot glue did the trick.
4. Next the Beak. You need a small cone for this. First , I looked at Hobby Lobby. The white craft cones were $6 and that was more than I wanted to spend. I found one in the florist section at Walmart for $3 but it was HUGE. I just cut it to the size I wanted it worked. Then I used acrylic craft paint and painted it yellow. Once it dried completely I attached it to the wreath with hot glue and let that dry.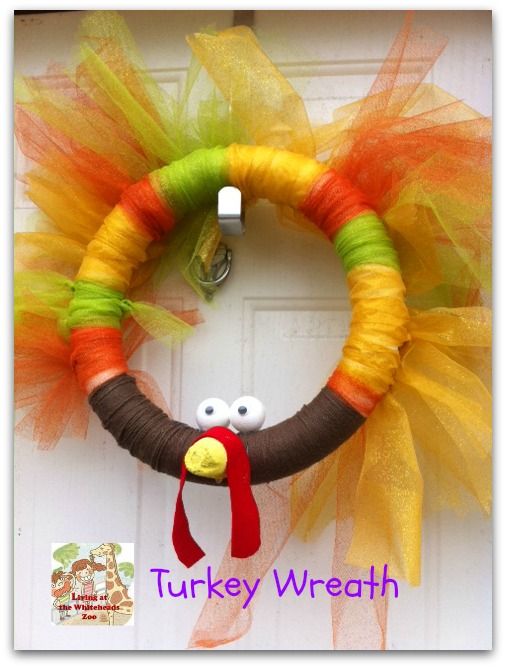 5. The waddle: I used red felt for my waddle. I bought one sheet of red and then I cut it free hand down one side with my scissors so that it hung plenty long on each side. I just hot glued that across the turkey beak. That is that 5 easy steps to a cute turkey wreath!
On a side note I originally put my wreath on the front door. My front door has a hard door and then a screen door in front of that. The beak of my turkey was to big to fit between the two doors it would not let the door close. Just an FYI in case you have this kind of door system. I had to move my turkey.
Are you looking for more fun turkey ideas? Visit our
Turkey Crafts
Pinterest Board. You might also like these
3 turkey crafts or our candy wrapper turkey.