I don't wear glasses but both of my parents do. Having a good pair with strong lenses is really important exspecially for my Dad. He wears glasses all of the time and can not see at all without them. He works outside a lot so he needs a scratch resistant and durable eyeglass Lens. This weeks Mission Giveaway sponsor gives patients great vision care and that is why I will be sharing them with my Mom and Dad.
About Our Sponsor
HOYA -- The Eyeglass Lenses Technology Leader You are the reason we innovate, to improve the lives of patients by providing the best vision correction possible. Free form is our design and manufacturing process which allows us to manipulate the light that passes through to the eyes in ways never before possible. We continue to develop light-weight crystal clear materials with superior optical properties to ensure our designs are optimal and comfortable. Lastly, the treatments we embed into HOYA lenses protect them from scratches; reflect the light away from the eyes that causes glare, as well as the blue light that induces fatigue brought on by digital devices.
The Prizes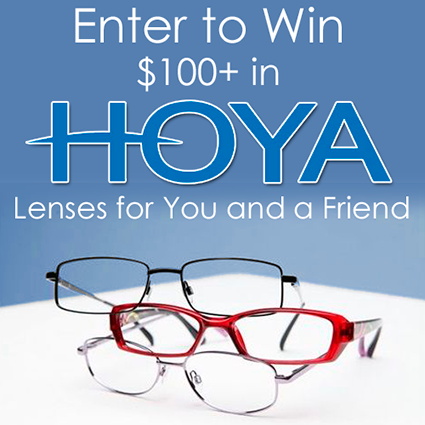 Two vouchers for free pair of eyeglass lenses made by HOYA. HOYA lenses use free form technology to design your prescription, we use materials that are very light weight and treat the lenses so they are more scratch resistant than glass. We also offer lenses that block a portion of the blue light spectrum that contributes to the symptoms with Computer Vision Syndrome (CVS) such are fatigue, headaches and blurred vision. CVS is typically induced by overuse of digital gadgets such as your smart phone, tablet or laptop. HOYA lenses are only available at your local independent eye care provider. They are not for sale at chain stores or the Internet-based eyeglasses web sites.
Keep: One voucher for $150 in HOYA Lenses
Share: One voucher for $150 in HOYA Lenses
How to Enter
The Giveaway will open up on
10/29

12:01 am EST
and Close on
11/1

at 11:59 pm EST
.
Complete the mandatory entries on the Rafflecopter below.
a Rafflecopter giveaway
Check out and Enter our Other Giveaways
Side note...It's not mandatory to enter all the giveaways at each blog. Those are just great bonus giveaways for you to enter. Mission Giveaway started with Madame Deals and her $100 story where with $100 several people received the help they needed. We are on a mission to help people help each other! We have gathered a group of bloggers that want to make a difference. Together we are Mission Giveaway! To ask about becoming a sponsor, please contact Amee or Dawn at madamedealsmedia@yahoo.com for details. Take a look at our Media Kit to see what Mission Giveaway has to offer. Are you a blogger that would like to participate in Mission Giveaway? Find out how you can join us. Find our official Terms and Conditions on the Madame Deals Media page.
We are sharing as a part of the Mission Giveaway Blogger group. I did not receive compensation for this post. Sponsor is responsible for prize fulfillment.