Wow, I know I say it every month but we're into October my friends. I love Fall and Halloween. The new house is all decorated and cute and it has my really excited about the holidays. One thing I surely do love about the cooler weather is the food. I love soups, chili and stews. Yum oh ! With that said here is our
October Menu plan.
1. Chicken Enchiladas
2. Breakfast
3. Fish and Fries
4. Sausage Bake
5.
Stuffed Pepper Soup
(new)
6. Chicken and Rice / Shells and Cheese/ Broccoli
7. Hash Brown Casserole / Salad
8. Beef Stew over Rice Corn bread
9. Chili Bake
10. sandwiches or left overs family choice night
11. Grilled Chicken / Veggie casserole (new)
12.
Taco Bake
13. Vegetable Soup (crock pot) and grilled cheese sandwiches
14.
chicken and dumplings
, mac and cheese, green beans
15. Baked ham / leftover side dishes from 14
16. Potato soup / yummy bread
17.
Janey Potatoes
18. BBQ chicken salad
19.
Crock Pot Brown Sugar Chicken
/ Veggie
20. Grilled hamburgers / potato salad
21. Hamburger Hash
22. Hamburger Stew
23.
Brunswick Stew
/ Corn muffins
24. Leftovers or Make it yourself night
25.
Dean Bros. Veggie Soup and Grilled Cheese Dunkers
(new)
26. Fajitas
27. Lasagna, garlic bread, salad
28. homemade pizza night
29. Beanie Weanie Bake / Fries
30. Pork Chops/ Mac and Cheese / Green Beans
31. walking tacos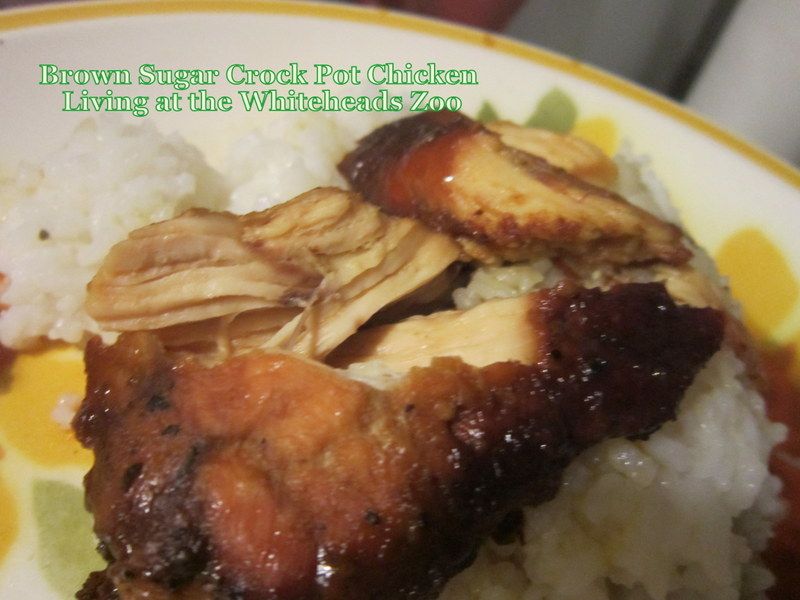 "
Brown Sugar Chicken
Pin it for later "
Desserts:
Pineapple Upside Down Cake
Orange Kool-Aid Cupcakes
Crock Pot Apple Crisp