"I received Free
Werther
's
Original
® products in order to host a
Werther
's
Original
®
sponsored Mommy party. The opinions expressed here are my own."
We recently received a
Werther
's
Original
®
Caramel Popcorn "Munch 'n Movie" Mommy Party kit . That got me to thinking about who I wanted to invite and what kind of party we would have of course. I have two teenagers. It is not always easy to entertain two teenagers. One thing that always helps is when they can have friends join in on whatever the fun is. One of our go to things to do as a family is movie night. Our Mommy Party kit came with all kinds of goodies to host a movie night and have some fun.
Everything You Need to Host a Movie Party for Teens
There are a number of things you need for a great party. Here are some ideas to help you plan.
The Friends ... the more the merrier or that is what I am told. How will you invite them? There are several ways to do invites. Good old snail mail, email, you can design evites or facebook. I have found facebook is the going trend with our family and friends these days. Just create an event with all of your information and send it out. Super easy! Here is a cute invite we had that you could print out and use if you'd like to.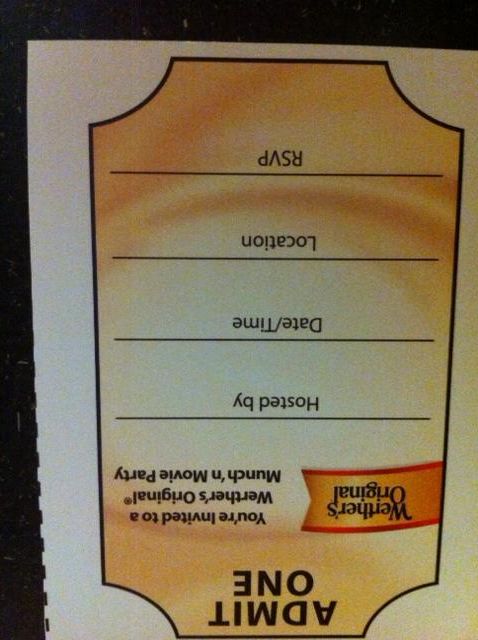 2.
Entertainment
.... Every party needs some good entertainment to keep things going. For our party we were provided with the Sony pictures family friendly film Soul Surfer. Soul Surfer is the inspiring true story of a teen surfer Bethany Hamilton, who lost her arm in a shark attack and courageously over came the odds to become a champion again. The film contains an all-star cast including AnnaSophia Robb, Helen Hunt Dennis Quaid and Carrie Underwood. (It made me cry)
3.
Activities
~ These are kids and they need to be kept busy. Here are some fun games and activities you can include to keep them that way moms.
*
Caramel Kernel Count
You will need:
a large jar
slips of paper and pens
Werther
's
Original
® Caramel Popcorn
Before the party guests arrive fill a large jar with your caramel popcorn. Make sure you count it as you put it in the jar. Write down the final number so you'll remember. When the guest arrive have them write down their guess as to how many kernels are in the jar. The one who comes to the closest wins. You might want to send them home with a popcorn for a fun prize!
*Popcorn Toss
This is a winner with my boys.
You need buckets or large bowls and
Werther
's
Original
® Caramel popcorn.
Label your buckets with 1, 5, 10 and 50. Arrange the buckets smallest to biggest #'s. Have the players stand in a postion and give them popcorn to toss. Add up the score of each player. The person with the highest wins!
*Make your own Goodie Bags - here is a look at our bags.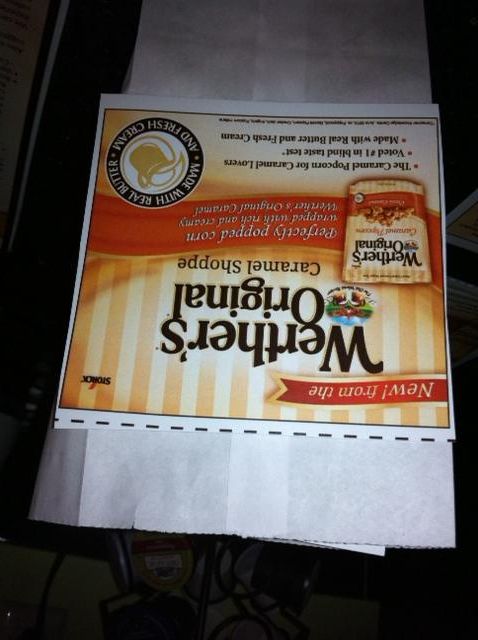 4.
Snacks or Food ~
Let me tell you if you don't already know this Teens are always hungry. They can eat and 5 minutes later they are looking for more food. Good Snacks are a must! We made these wonderful Chocolate caramel Clusters for a treat at our party.
They are so easy to make and so yummy. Can't go wrong with chocolate and kids right?
Chocolate Caramel Clusters Recipe
Ingredients:
12 oz of semi-sweet chocolate chips

4 Cups of

Werther

's

Original

® Caramel Popcorn

Sprinkles, shredded coconut or other toppings optional

1. Line a mini muffin pan with paper cups. (I used silicon cupcake liners instead here)

2. Melt the chocolate chips in the microwave stirring every 30 seconds until melted.

3. Place the popcorn in a large bowl and pour the melted chocolate on top. Stir until coated.

4. Place spoonfuls of the mixture into the muffin tins or cups and decorate with your toppings.

5. Refrigerate for 20-25 minutes until set.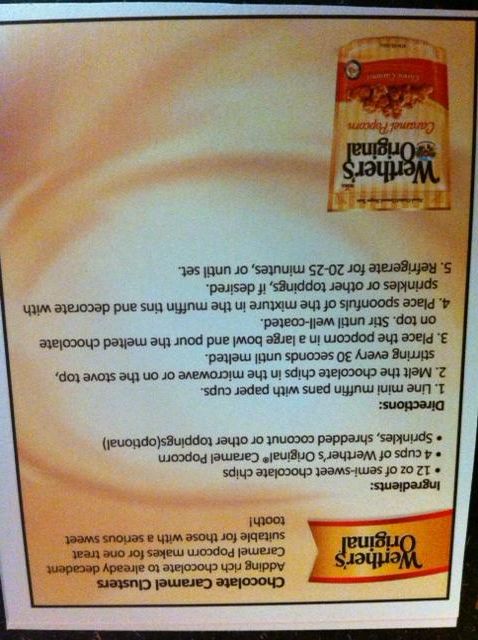 There you have it! We had a blast at our party and everyone really enjoyed the
Werther
's
Original
® Caramel popcorn and snacks. They all got to take some home and I also shared with my neighbors the great neighbor that I am.
Connect with Werther's on Facebook Visit Werthers for exclusive savings, recipes and information.
"I received Free
Werther
's
Original
® products in order to host a
Werther
's
Original
®
sponsored Mommy party. The opinions expressed here are my own."