We received a
Green Kid Crafts
Discovery Box for review. The kit contained three easy and fun projects for us to give a try. Plus a Passport sticker book which was a very big hit. I liked that each project was individually bagged with all of the supplies needed to do that craft as well as easy to follow instruction sheets.
ABOUT Green Kid Crafts: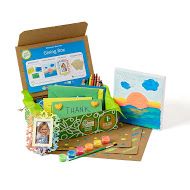 Green Kid Crafts is a mom-owned and operated green company that uses safe and sustainable materials to create activity kits that build creativity and confidence while fostering children's love and respect for the environment. Green Kid Crafts' mission is to inspire future generations of environmental leaders while serving as a model for sustainable business and growing demand for Earth friendly , sustainable craft supplies.
WHAT WE THINK:
C. absolutely Loved the Green Kid Crafts box. I had set the bags with the activities in a basket on our kitchen bar. Everyday after preschool he came home and did one of them. When he ran out of them he told me " I very sad mom." He really enjoyed having everything ready so that he could grab it and make something. Our box had three activities in it: Guatemala worry dolls, Australian Cave Painting and A Chinese Swallow Kite. His favorite was the Chinese Swallow Kite.
C with his Chinese Swallow kite waiting to go outside and fly it.
I liked that the box could be used for children of several different ages. The activity card included information about the craft and the country it was used in. It also gave easy to follow directions. I think older children could use the activity card and complete the projects on their own. This kit could definitely be used as part of a homeschooling program in my opinion.
Try
Green Kid Crafts
for Free just pay Shipping
.
Green Kid Crafts also has a fun new Halloween kids activity guide. 24 pages of fun Halloween kids projects, parent resources, hands on activities, coloring sheets , games and puzzles. You can get a
FREE
copy of the
Halloween Kids Activity Guide
here for a limited time ($5.95 value).
Are you on Social Media? If so follow Green Kid Crafts and stay connected. You can find them on :
"
Living at the Whitehead's Zoo received one or more of the products above for reviewing purposes. Even so all opinions shared here are our own."