Colleen from My Dairy free Gluten Free Life is here today sharing a review and giveaway with you guys. Every time Colleen shares a recipe I'm ready to grab a plate and eat. That Mongolian beef below looks just delicious to me. I want a bottle just to try that one recipe . Yum ! Anyway, check out the review and giveaway below.
New San-J Gluten Free Products Review & Giveaway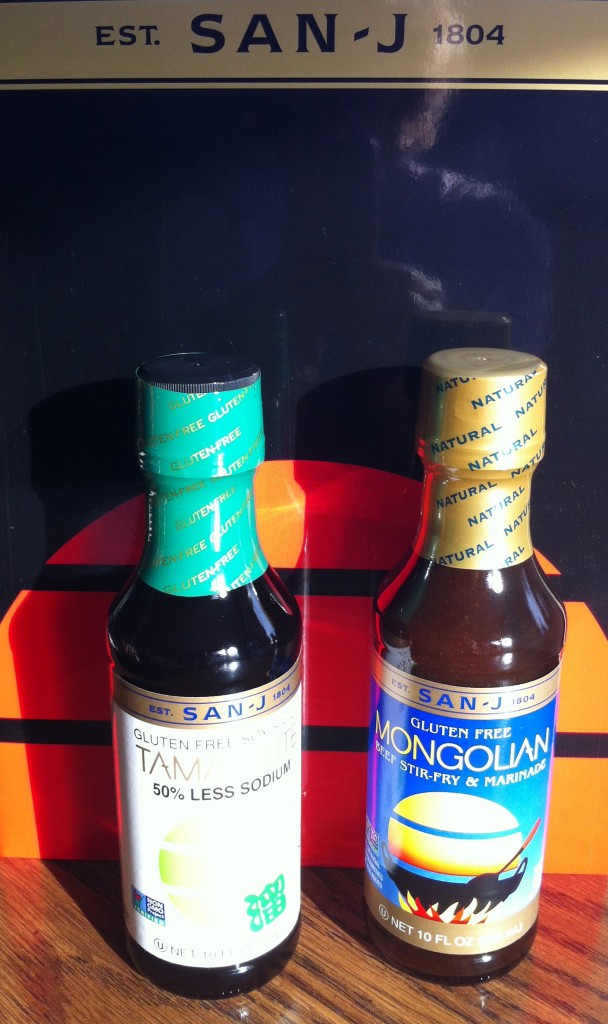 Gluten Free Tamari Lite and Mongolian Marinade
I was contacted by San-J to review their New Gluten Free Products, Tamari Lite Soy Sauce and Mongolian Stir-fry & Marinade. Comments are my own and product was the only compensation received for this review.
I did not know that all of San-J's Asian Cooking Sauces, Tamari Sauces, Salad Dressings and Brown Rice Crackers are Gluten Free! What I LOVE is that the Tamari Lite and Mongolian Marinade have been awarded the Non-Gmo Project label which means they use non genetically modified soybeans!
Tamari Lite, although having 50% less sodium, does not taste that way. It is kosher and vegan with a rich flavor which I love. Using it in everyday cooking would not make me feel deprived of the flavor of salt at all. I just used it tonight on my swiss steak that I had made in our crock pot, it added an earthy richness to the sauce. In fact, in one of my intensive cooking classes we were told that a secret ingredient for most any dish is soy sauce! Try it next time a dish just needs something...
The Mongolian Marinade is hitting the shelves this month and I was thrilled to try it first! I don't usually use Mongolian seasoning or flavors so this was something new for me. I marinated thinly cut beef slices in the sauce for about an hour. While marinating the beef, I caramelized one sweet onion, removing it from the fry pan when finished. I then used tongs to remove the meat from the marinade squeezing what I could from the meat. I transferred the meat into the fry pan and cooked it on high adding garlic, yellow peppers, mushrooms and green pea pods. The photo below is not as sharp as I would have liked due to the steam.
I cooked the meat on high long enough so the marinade caramelized slightly. I added the caramelized onions to the fry pan mixture until hot and served this over rice with a small bowl of Mongolian Marinade on the side. It was fantastic! My husband loved it and had seconds. I will be keeping a jar of this Mongolian Marinade in my pantry. I loved the flavor which is hard to describe but I will try: slightly sweet, a little salty, full bodied and pleasantly complementary to meat dishes. You can go online at San-J and get some other great Mongolian Recipes.
You can find San-J on Facebook and get FREE coupons there!
Giveaway:
San-J is giving away 1 bottle each of Gluten Free Tamari Lite & Gluten Free Mongolian Marinade to one lucky reader.
Enter on the Rafflecopter below:
a Rafflecopter giveaway
Make time to try these new Gluten Free San-J products!
"Living at the Whiteheads Zoo was not compensated for this review/giveaway in anyway. We are not responsible for the fulfillment of this prize."