"
I received a complimentary package of Toe Juice products for reviewing purposes. All opinions shared here today are my own . "
Let's talk skincare today. WE have a product called
Toe Juice
to share with you. Have you heard of it? I had not prior to a few weeks ago. I like the name Toe Juice in my opinion it sticks once you hear it. So what is Toe Juice? Toe Juice is a fast drying liquid that has a repairing quality for the skin. Toe Juice uses a blend of plant-based extracts DermaVine® which enhances the skin's natural repairing ability. Toe Juice can be used from head to toe. It uses natural extracts and proves to be a very safe product.
Here is a video clip that shares common uses and how to apply Toe Juice.
As you can see Toe Juice has all kinds of uses. (acne, warts, cold sores, eczema are just a few)
I have what I call flip flop feet. I'm sorry to say they just get gross sometimes. I wear flops all of the time year round. Doing so my heels really crack and get yucky . I applied Toe Juice to my icky feet and was happy to say with in just a couple of days I noted a difference. My split feet were healing and feeling much better. That is not all I tried Toe Juice on. I dabbed it on my ant bites and acne also. You know how the itching will drive you
CRAZY
from bug bites! I chose to apply my Toe Juice with a cotton ball. Of course you can also squirt it on directly if you'd like. A little Toe Juice seems to go a long way. The Toe Juice definitely offered immediate relief for the awful bites. Toe Juice does have a slight smell but nothing overpowering at all. Some might even find it refreshing. It goes on cool and is to apply. With the many different uses of Toe Juice I'm glad to have it in my cabinet.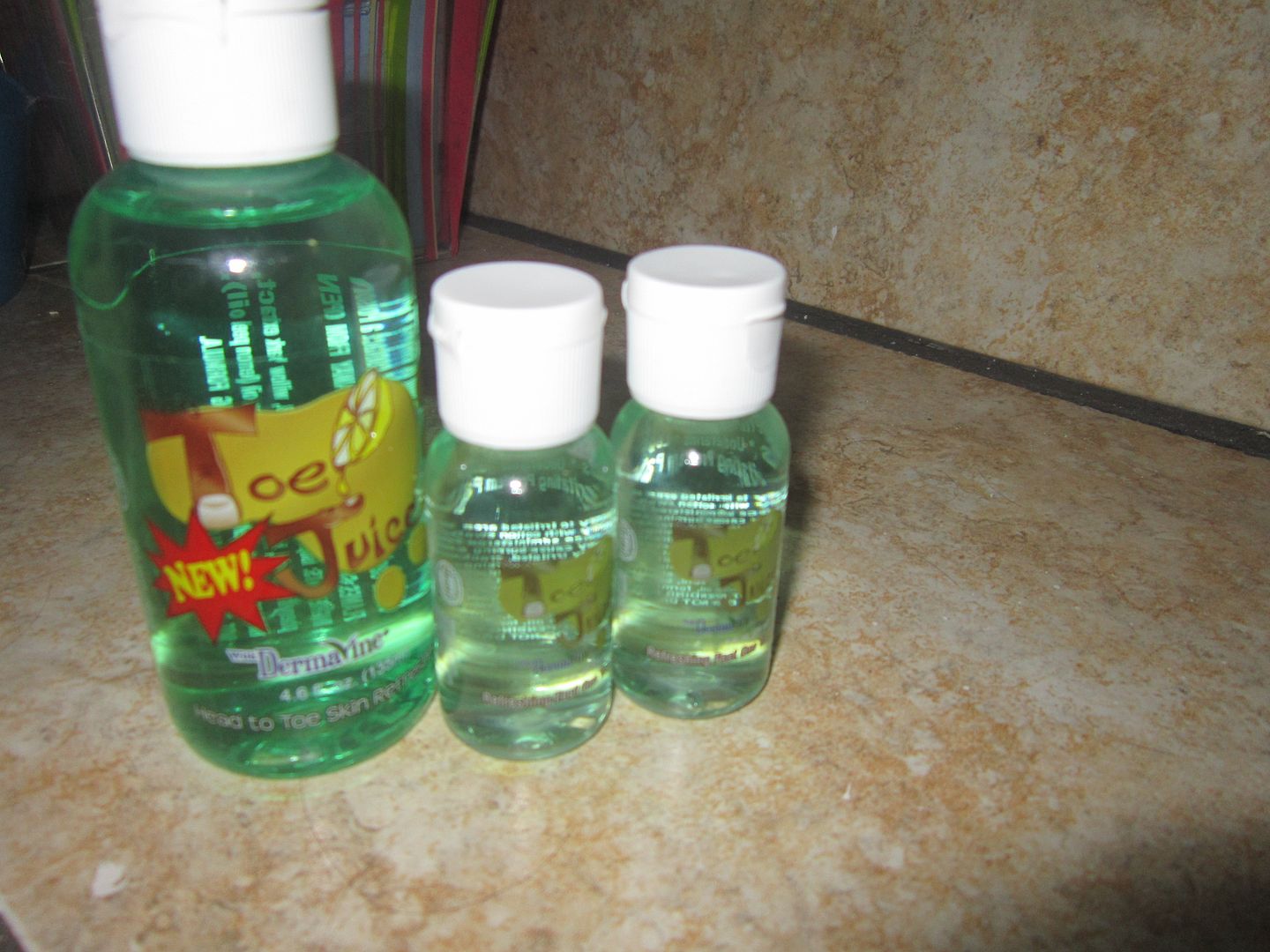 BUY:
Toe Juice is available
online
and in retail stores through out the US and Canada. You can also check for a store near you
here
. Living at the Whitehead's Zoo Readers can also receive a special discount of 20% off anything in the Toe Juice Store. Just use coupon code
extra20 at checkout.
Connect:
Don't forget to Connect with Toe Juice Y
o
u can find them on
Facebook
/ Twitter/ Pinterest and Google +
and even subscribe on
You Tube
to keep up with all of the latest information and specials.
Win:
1 lucky reader will Win a Toe Juice Signature Package . Just fill out the rafflecopter entry form below. Good Luck! (US or Canada)
a Rafflecopter giveaway
"Living at the Whitehead's Zoo received one or more of the above products compliments of Toe Juice for review. All opinions shared are completely my own. "