For those of you who don't know....it's talk like a Pirate day. Now you may have caught on but here at this crazy zoo we are bonkers of everything Pirate. Yes bonkers is the word. So, today we have a couple of fun kid Pirate crafts for you to give a try.
First, every Pirate needs a parrot.
Parrot Craft
WHAT YOU NEED:
9 inch circle or paper plate
6 inch circle or paper plate
feathers
1 google eye or cut out eyes from paper
colors and paints
Glue Stick
What To Do:
Glue the smaller circle or plate 1/3 of the way down the larger one.
Cut out all of your pieces (tail, top feathers , wings, beak, claws , eyes)
Glue the beak to the side of your circles
Add one eye or google eye
Glue on Top Feathers
Glue on Wings
Add your claws at the bottom of big circle(plate)
Glue tail underneath the claws
Time to Decorate. My little used paints and glued feathers onto the wings, tail, and top feather sections.
TP ROLL Pirate Craft
I first saw this cute Pirate craft on Pinterest. You can find the Printable version for this craft at
Story Time Crafts
. I just eyeballed the printable and drew it out on paper then cut it out. No printer ink here.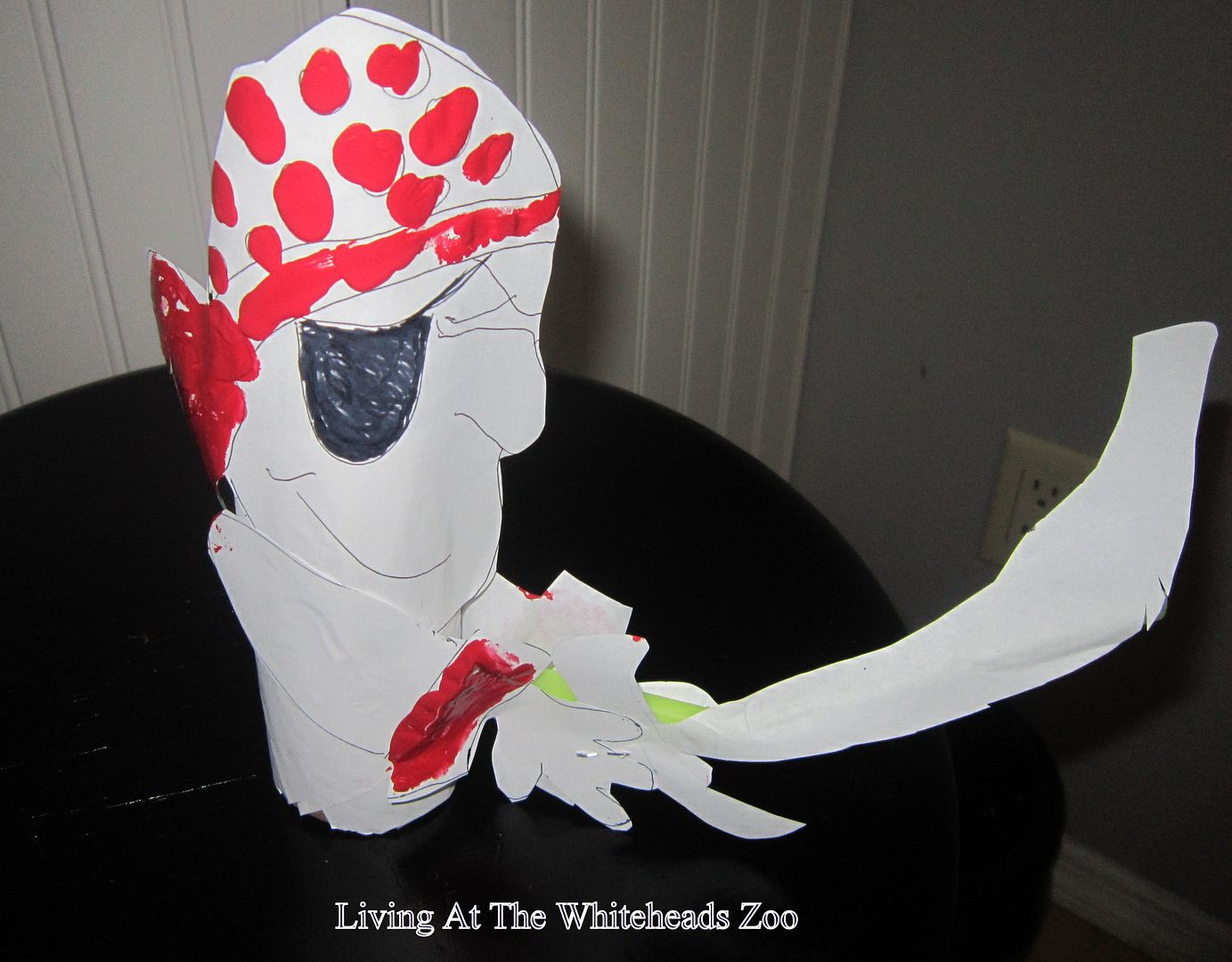 Okay so first you need a toilet paper roll. If you want to you can wrap the roll in white paper. Here are the pieces I drew, or you can draw your own, or go to the above link and print you some.
I ended up not using the shoes. Okay so glue your pieces in place to the TP roll. I wanted my sword to stand up . I cut a bendy straw and glue it to the back of the sword. Then I stapled the hands together in one spot. And there you have it. We colored the eye patch in with a black marker and I my little used his fingers to dab on red paint on the hat and cuff of the arm. Argh Matey have fun with these we did.
Here are a few other pirate crafts you might like to check out!
However you choose to spend the day be sure and share some pirate lingo with your mate, or maybe a hunt for a treasure. It's bound to be a great time. Here are a few pirate words to get you started.