"
I received free LeapFrog products in order to host a LeapFrog sponsored Mommy Party. The opinions expressed here are my own."
We were so excited when we heard that we would get to host a LeapReader "Ready Set, Read & Write" party sponsored by
LeapFrog
. C. is four and goes to preschool. He is working on learning his letters, numbers and writing as many others his age are. I couldn't wait to see how the LeapReader would work for him and also his classmates. LeapReader is recommended for ages 4-8 years old.
The LeapReader solution includes three essential learning experiences:
Learn to Read: sounds out words, reads sentences, and lets kids play games and puzzles
Learn to Write: LeapReader gives children interactive guidance as they practice writing letters and numbers on special mess-free writing paper.
Learn through Listening: audio books, learning songs, and trivia challenges build comprehension skills and vocabulary
The LeapReader Library includes over 150+ books, maps, flash cards, map sets, book sets and learn to write sets with LeapFrog learning paper, audio books , music albums and trivia challenge activities all developed or approved or developed by LeapFrog's highly experienced team of learning experts. LeapReader holds audio for up to 40 books or 175 songs at a time and is backwards compatible with most of the tag library.
Key features:
a library of 150+ books, workbooks, audio books & more
available in green and pink
a sampler book and 4 apps included with purchase
includes a USB rechargeable battery
holds audio books for up to 40 books 175 songs
LeapFrog provided us with all kinds of fun ideas for kids to play and explore the LeapReader. They also provided us with a complete line of "really cool" Leap Frog products to test out. Here are a few of the products we sampled:

Books and Flash Cards ~
The Get Ready for Kindergarten Book is a multi subject interactive book that contains a broad spectrum of math, science, reading and social studies curriculum combines with art and fun audio effects.
Disney -Pixar Monsters University 3D book
: (C's favorite) Join the fun on campus as Mike and Sully learn to appreciate their differences, develop a lifelong friendship and train to compete in the famous Scare Games!
LeapReader
brings the story of Monsters University to life with exciting 3D effects and helps build reading comprehension and vocabulary skills.
Talking Words Factory Flash Cards: Mix and Match letters to build more than 100 words featuring short vowel sounds. (We weren't quite ready for this individually or in the class but should be by the end of the school year )
LeapReader Sampler Book : Interact with samples of other LeapReader books and get a taste of how LeapReader works on special LeapFrog mess free paper.
Workbooks ~
LeapReader Write It Talking Words Factory Writing Workbook: head to the talking words factory to rehearse for the show, and help build words with Leap, Lily and Tad. Use the Word Whammer and Sticky-ick-o-rama to learn how letters blend to create new words, trace missing vowels and write words in your workbook.
LeapReader Write it Learn to Write Letters Writing Workbook: Join dot, dash and Mr.Pencil on a musical learning adventure featuring interactive stroke guidance, exciting sound effects and engaging activities. Practice writing the alphabet with the LeapReader and learn about upper and lowercase letters and sounds. (WE love it! )
Audio Book Apps ~
Ozzie and Mac:
Join Ozzie, Mack and their classmates for spirited music and fun rhymes as they come up with a creative solution and convince Mrs.Bunny to change the no pets allowed rule. With rhyming narration throughout and exciting music and sound effects.
T.Rex's Mighty Roar: When T.Rex's mother goes to find food, T.Rex ventures out on his own. Meet a flock of flying pterosaurs, a pack of Troodon, a big Anklyosaurus and an angry Alamosaurus. List to them roar! Lots of fun prehistoric adventure.
Music App :
Leapfrog Learning Songs: Turn up the learning fun. Upbeat music and catchy lyrics inspire little ones to sing along to 5 songs that teach the alphabet, vowels, rhyming and phonics skills.
Trivia App: This trivia challenge features animal themed information accompanied by amusing sound effects. Children can listen to the facts and try to guess the answers to unusual animal questions.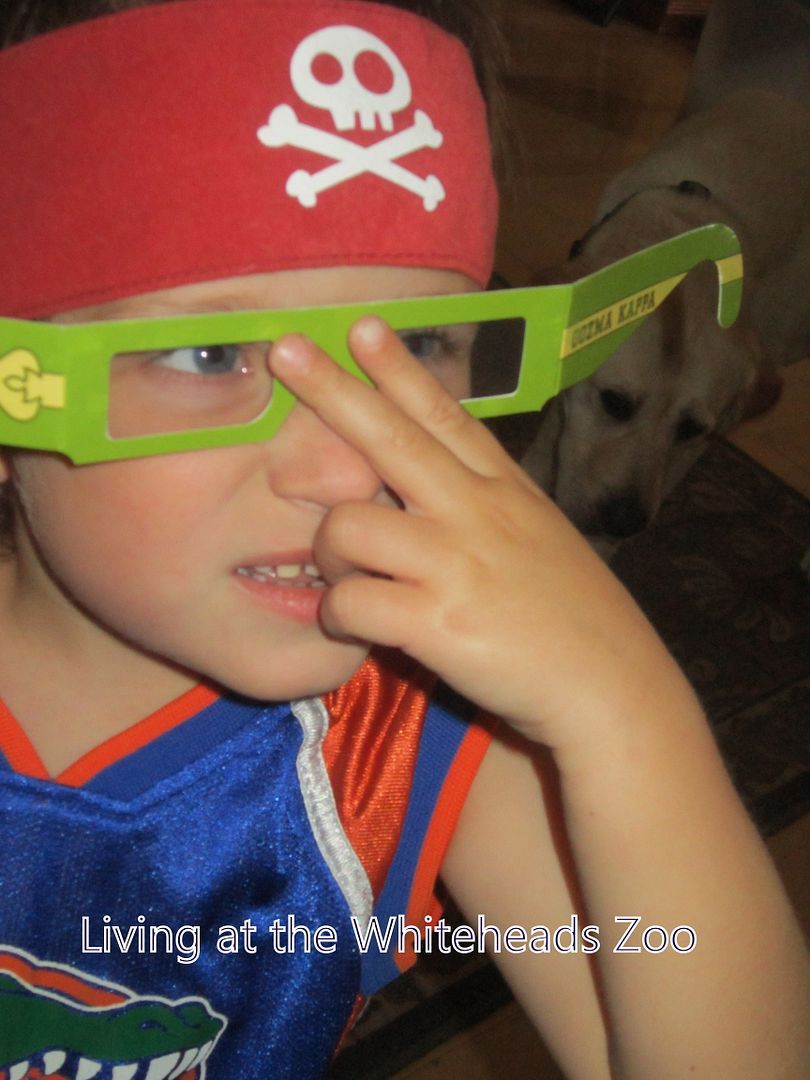 What this Mom thinks:
I love it! My son is not one who wants to sit and study. He is go go go and getting him to sit and practice writing or working on his letters is quite the task some days. To him the LeapReader is a fun game. He practices without the fuss which is GREAT for me. I love that he can get a book and the LeapReader will read the story to him. I find him sitting with the book and a smile on his face enjoying a story. I also love that it is light and portable. This is excellent to add to my bag for the car or when we're on the go.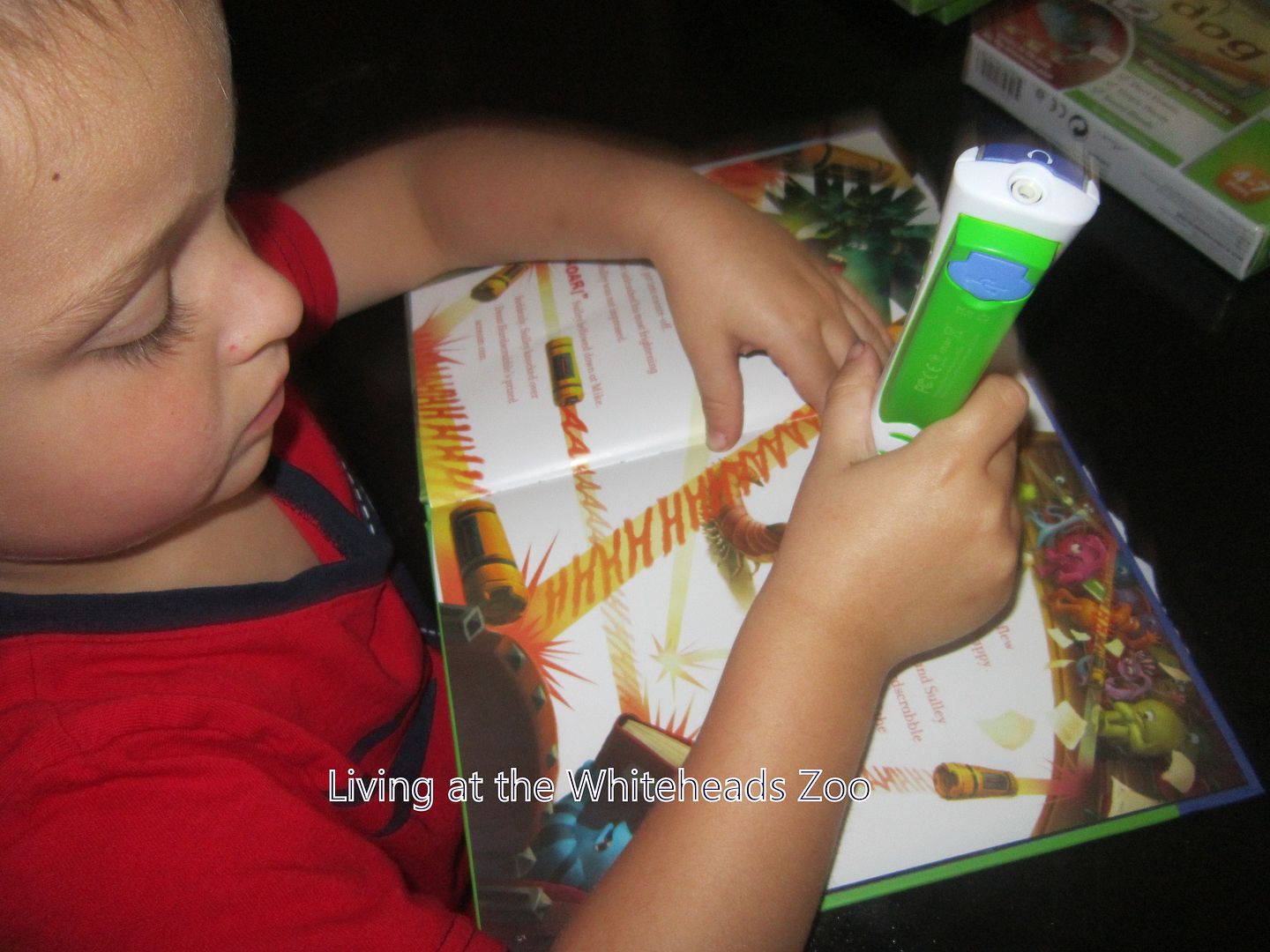 What the Kids thought:
The kids were so excited to try this out. My son who is 4 love it. He actually enjoys practicing the writing and I love how the LeapReader directs him which line to make first, next and last and when his is mistaken it directs him to go back. He request playing with it several times already which makes it a success.
His classmates all wanted a turn holding the pen and trying something out. They all had big smiles and couldn't wait to have a turn in the different areas. Favorites were writing time, and story time!


What the Teacher thought:
"How wonderful!" She was very excited about having the LeapReader for her classroom. The one suggestion was that the volume could be a little louder. When you have 20 four year old children in a little room even when they are trying to be quite it can be noisy and hard to hear. We love that it can be easily moved around the class and is very portable. No wires or anything like that making it very child safe and friendly.

Here is a little video clip of us with the LeapReader in action:

We ended the party with some Halloween cupcakes and frog punch. A great afternoon with some great kids and products. Thank you LeapFrog we had a wonderful time.


"
I received free LeapFrog products in order to host a LeapFrog sponsored Mommy Party. The opinions expressed here are my own."