"As a Fox Entertainment Insider I receive complimentary DVD's for review and promotional items to share with all of you. " Its pretty Awesome to be a blogger in my opinion. My family is beyond excited about this next DVD we are sharing. The Croods. ...maybe you made it to the movies to see it? maybe not. Either way we have some fun to share with you today. Enjoy and don't forget to enter the Giveaway for your chance to Win The Croods on blu-ray DVD and a plush animal too!
Available on Digital HD September 15 and Blu-ray & DVD October 1
In the beginning, Grug is suspicious of Guy's weird ideas and does not want the family to listen to his advice. Eventually, Grug starts coming up with a ton of great inventions himself! Take a look below at five of the croodaceous inventions and when and where they really became a part of our lives.
Join the Croods on the journey of a lifetime in the epic comedy-adventure that "has the magical wonder of How To Train Your Dragon" - Jake Hamilton (Fox-TV). When their cave is destroyed, the Croods set out to explore a spectacular landscape filled with fantastic creatures, strange surprises…and a whole new world of adventure!
During their journey, Grug has the fantastic idea of leaving your mark behind with a snapshot. The first photograph was taken in the early 1820s. A French man named Joseph Nicephore Ni
é
pce used a camera obscura to create an image of an engraving. The process was very complicated and took eight hours of exposure to light to create!
After putting on her first pair of boots, Eep enthusiastically exclaimed, "I love them!" Who can blame her? Imagine a life having to walk around without shoes on a daily basis. Though Guy comes up with the idea in The Croods, the original shoe dates back to approximately 7,000 or 8,000 BC. Originally, most shoes were in the style of a sandal and could be created from whatever material was available to the people (such as cow hide).
Grug's original shades were certainly stylish and would definitely protect your eyes from the sun's rays, but they were a little impractical because you could not see through them. In the prehistoric era, Inuit people created ivory goggles to protect their eyes from the sun with narrow slits for viewing. A man named James Ayscough developed the original tinted lenses for glasses in the mid-eighteenth century. These lenses typically had a blue or green tint.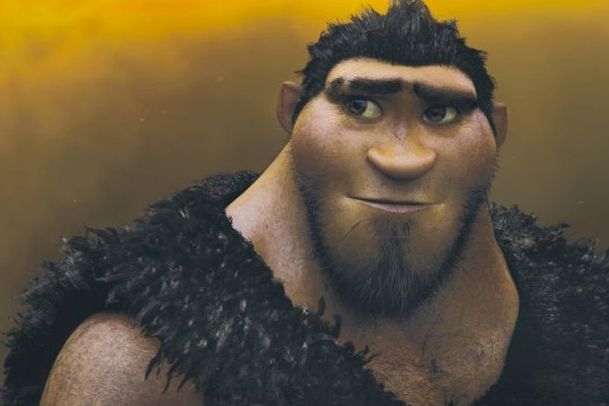 During Grug's frenzy of inventions to try and impress his family, he created the see-saw, a fun game for children that is now often seen in parks and playgrounds. Although it is not entirely known when the first see-saw was created and used, it is believed that the word originated in the 1600s and has been a staple of children's playgrounds ever since.
Guy helps protect Eep from the downpour with his own version of an umbrella, created with leaves and sticks in The Croods. Umbrellas or parasols can be seen in ancient sculptures and drawings. However, not everyone was able to have their own umbrella during these times. For instance, in sculptures from Ninevah, the only person ever shown with a parasol is the monarch.
Now are you dying to see Croods or have you already? Well we have some great news for you guys. We're giving away The Croods on Blu-Ray DVD plus a Belt Plushie! For a chance to win just fill out the rafflecopter form below. Good Luck!
Plushie for you to Win
a Rafflecopter giveaway
"Living at the Whitehead's Zoo received The Croods on DVD for Free for review. All opinions are my own and may bedifferentfrom your own. "