After back to school shopping for three kids I'm ready to do some shopping for mom. I'm heading back to work with back to school and updating the wardrobe is really a must. How fun would it be to receive a new dress a month for a year. I'm thinking pretty darn fun. With that in mind we have a new giveaway I think you are going to love. Check it out below.
How would you like to own your very own Karina dresses wardrobe? This year, we're celebrating the YearOfYou™. What have you done to reward yourself lately? Whirlwind of Surprises is celebrating by hosting a massive giveaway that includes $2000 worth of Karina Dresses of your choice. Karina Dresses offer unique limited edition patterns, machine washable, easy-wear, easy-care dresses that fit women of all shapes and sizes. They make fashion easy and comfortable. Each dress is made with love in Brooklyn, New York.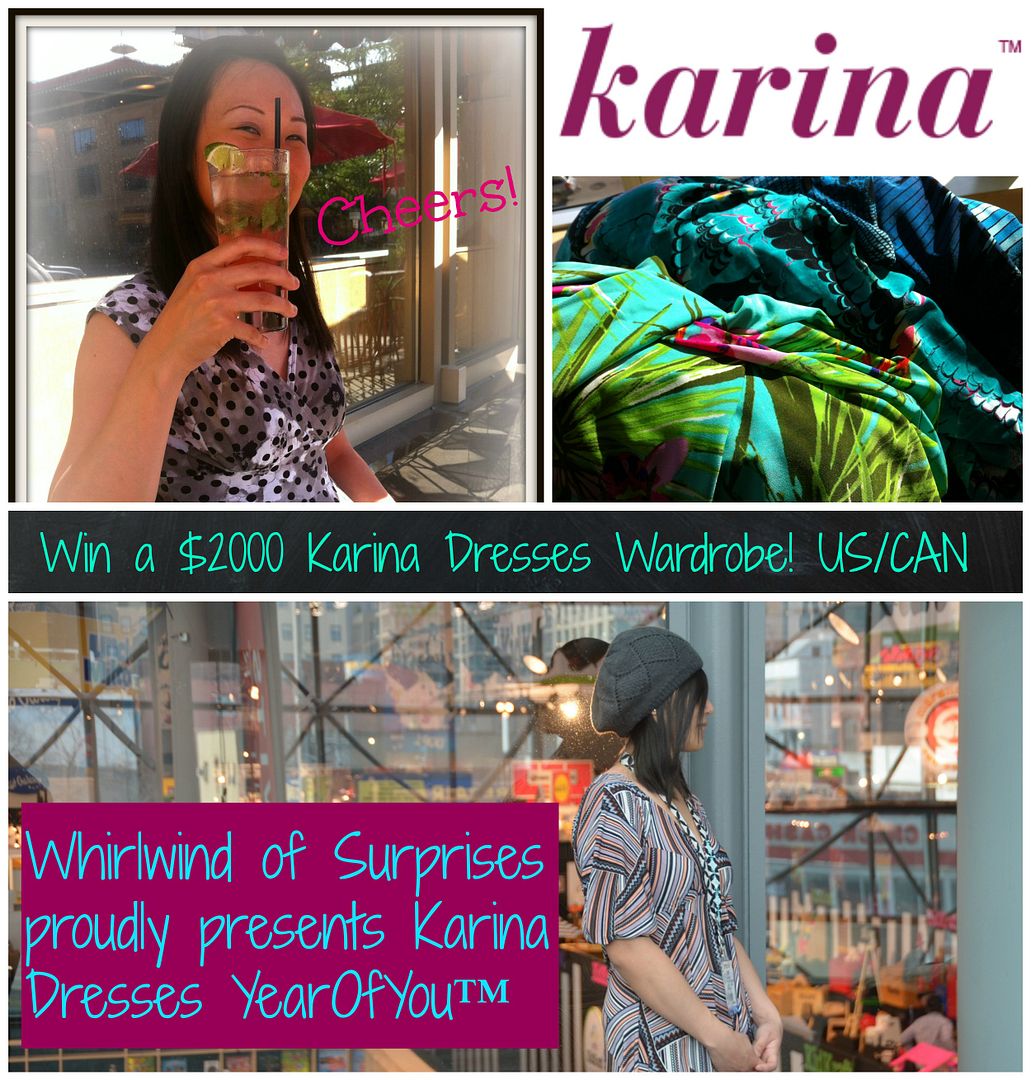 The grand prize consists of 12 Karina Dresses, distributed as one dress per month for 12 months, of the winner's choice. The ONLY mandatory entry is to sign up for the Karina Dresses newsletter so that you can get the latest and greatest deals and sales. Plus, sneak previews of the newest collections. The winner will be verified to confirm newsletter subscription. All other entries are optional but of course, the more you do, the more chances you get to win. Who wouldn't want to win such a gorgeous and feminine prize. So, let's get down to the nitty gritty details and get our YearOfYou™ giveaway started! <<
>> Prize: A year's worth of Karina dresses, 1/month of the winner's choice for 12 months (Value: $2000). Open to: US/Canada Entry dates: Aug 21, 2013 12AM EST to Sep 20, 2013 11:59PM EST Mandatory Entry: Karina Dresses Newsletter Sign Up Enter on the Giveaway Tools form below. Good luck!
Entry
-Form
"
Living at the Whitehead's Zoo was not personally compensated in anyway for sharing this today. We are not responsible for fulfillment of this prize. "