A blast from my childhood. That's what happened when I saw the newest movie I'd be reviewing from Fox Home Entertainment Insiders blogger program. Strawberry Shortcake Bitty Mysteries is coming to DVD and we get to review it. Squeal. I was a big time Strawberry shortcake girl when I was little. In fact my entire childhood bedroom was done in Strawberry Shortcake.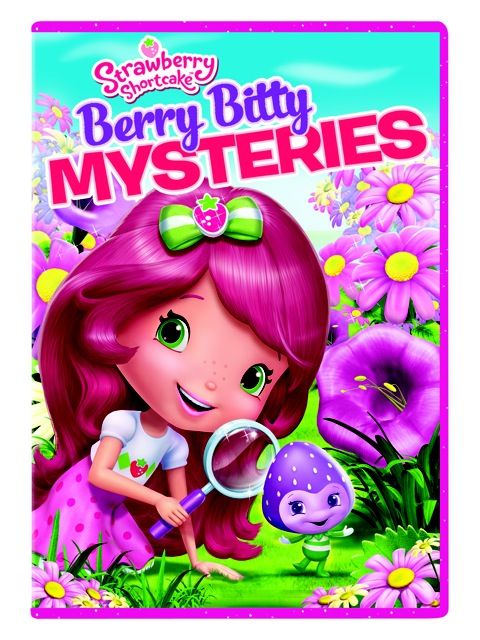 COMING TO DVD SEPTEMBER 24, 2013
Get ready for mischief, mystery and marvelous good times in Strawberry Shortcake: Berry Bitty Mysteries. You'll follow the clues to fun and adventure as Strawberry and her pals learn to face their fears, become real-life heroines and find some missing VIP's (Very Important Pets)! It's glimmery girl power to the rescue in these stories of friendship!
Strawberry Shortcake: Berry Bitty Mysteries
DVD
Street Date: September 24, 2013
Prebook Date: August 28, 2013
Screen Format: Widescreen 1.78:1
Subtitles: English/Spanish
Total Run Time: 66 minutes
About Twentieth Century Fox Home Entertainment
Twentieth Century Fox Home Entertainment, LLC (TCFHE) is a recognized global industry leader and a subsidiary of Twentieth Century Fox Film, a News Corporation company. Representing over 75 years of innovative and award-winning film making from Twentieth Century Fox, TCFHE is the worldwide marketing, sales and distribution company for all Fox film and television programming, acquisitions and original productions as well as all third party distribution partners on DVD, Blu-ray™, Digital Copy, DigitalHD™, and VOD (video-on-demand). Each year TCFHE introduces hundreds of new and newly enhanced products, which it services to retail outlets from mass merchants and warehouse clubs to specialty stores and e-commerce throughout the world.
Stay tuned for more Strawberry Shortcake features. We're excited to be giving away a DVD very soon so be on the look out for that post!
"as a Fox Home Entertainment Insider I receive promotional materials and complimentary products for reviewing purposes. All opinions shared are always my own. "