"Living at the Whiteheads Zoo is an affiliate of Zulily. The below post does contain affiliate links. If you choose to click on them and place an order I may receive a commission. "
8/1-8/8, zulily is offering the newest
phil&teds Promenade Premium Urban Stroller
and will be the only place to offer it at over 40% off! That's right 40% off!
The
phil&teds Promenade
is both stylish and smart with sleek aluminum framing and an intelligent, multi-function seat. It's ideal for one child, twins or children of different ages. For one week only, you can promote the stroller for $499.99 (reg. $850) and a second seat for only $99.99 (reg. $160) .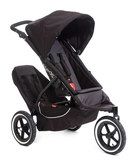 Know someone expecting or are you? Visit
zulily.com!