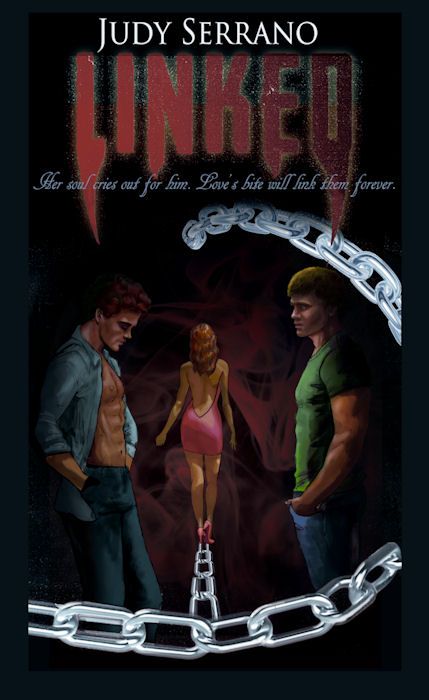 My Thoughts on Linked by Judy Serrano:
Linked is a Suspense/Thriller with a twist. Judy Serrano leaves no detail out. This book is full of some good story telling and paranormal twist . I do feel as if there are a few areas that just seem to go on forever though.
Daphne Foster is the very human substitute teacher. She happens to have a parent teacher conference with the very non human dad , vampire , gangster Charlie Cross. Bad Boy vampires (you like) how about bad boy mafia running vampires? Charlie gives off first impressions of being a lover not a meanie but don't let him fool you . Once a bad boy always a bad boy right?
Then there is this whole linked thing. Which is pretty cool concept really. When a vampire links with a human soul & he begins regaining his human characteristics and can eventually regain his humanity. Cool right? Here is the question is it possible for human girl Daphne to be "linked" to more than one vampire? hmmm.
I enjoyed the paranormal twist, romance and love triangle that builds with this question. Charlie definitely pulled out a few stunts that leaves your jaw hanging. The way this book ended I could leave it at that although I'm sure a second book will be coming. I didn't feel like I was left hanging did it end how I pictured nope, did it make me say What? Definitely and that's what makes a good story right one that makes you go back and think about the ending.
If you love your vampires, or are just a Judy Serrano fan then I think you'll like this one.
Synopsis:
Daphne Foster is a substitute teacher stuck in an English class, waiting for that dreaded
parent-teacher conference. With much preparation and anxiety, she encounters the
unforgettable Charlie Cross. His charm and good looks, win her over but rumors of his
involvement with organized crime make his continued disappearances disturbing.
In walks Heathcliff Vanderpool, creating a love triangle of unusual sorts. Unknown to
Daphne, Heathcliff and Charlie are old friends: Older than she could have imagined.
With Charlie away on business, Daphne and Heathcliff discover a passion between them
lying beneath the surface. As their souls link, pulling away from Charlie becomes next to
impossible. Will his involvement in organized crime consume them both before she's able to
get free? When you become "linked," the choice may not be your own.
BUY LINKED: Amazon / Barnes & Noble
About the Author Judy Seranno:
Judy Serrano graduated from Texas A&M University, Commerce with a BA in English. She
is a member of Romance Writers of America and Dallas Area Romance Authors. She is a
substitute teacher at the local school district and writes for various on-line publications. She
is the author of Easter's Lilly, Brother Number Three, Relatively Close and Memoirs of a
Mobster, which are romantic thrillers and part of The Easter's Lilly Series.
Judy currently resides in Texas with her husband, four children (all boys) and five dogs. She
is also a singer/songwriter in her spare time.
Win
~ a copy of Judy Serrano's Easter's Lily on Kindle ! Just fill out the entry form for a chance to win. Good Luck!
a Rafflecopter giveaway
"I received a complimentary sampe of the book Linked for reviewing purpsoes.