"As A Fox Home Entertainment Insider I am being compensated with a Blu-Ray DVD of my own for sharing."
Bring home Epic Adventure with a Brand New Interactive Coloring App and Nearly an Hour of Fun and Immersive Special Features for the Whole Family
Arriving on Blu-ray Combo Pack, Deluxe Edition Blu-ray and DVD August 20
I don't know about you but I loved Ice Age. One of my all time favorite kids movies and my son loved loved it also. He laughs and laughs every time we put it in the DVD player.
From the creators of Ice Age, the year's funniest, most exhilarating animated adventure comes home as
EPIC
debuts on Blu-ray Combo Pack, Deluxe Edition Blu-ray, and DVD this August 20 from Twentieth Century Fox Home Entertainment.
Directed by Chris Wedge (The
Ice Age
Franchise) and featuring an amazing voice cast including Colin Farrell, Amanda Seyfried, Christoph Waltz, Jason Sudeikis, Steven Tyler, Pitbull, and Beyoncé, the blockbuster film comes home just in time to help families become one with nature and end the summer in Epic style.
Transported to a magical world, a teenager (Amanda Seyfried) is recruited by a nature spirit, Queen Tara (Beyoncé Knowles), to help the "Leafmen" save their existence – and ours – from evil warriors. The whole family will love this fast-paced thrill-ride, with its astonishing animation and all-star voice cast that includes Colin Farrell, Oscar® Winner Christoph Waltz, and Steven Tyler!
Every Blu-ray and DVD comes with the Epic Coloring and Storybook Builder app. The app will allow kids to create their own Epic story and share it with family and friends.
The EPIC Blu-ray combo-pack includes
Blu-ray, DVD and DigitalHD and
comes complete with exclusives that will have kids both engaged and learning about the environment, just before heading back to school. With special features including an overview of what life as a person two inches tall would be like, to discovering all of the different bugs from the film, EPIC is the perfect gift for families to enjoy from summer to the holidays!
Now we have a couple of fun treats for you guys! First, for your little readers check out these very cool #EpicDay Bookmarks. As a book worm today and when I was a kid I just love bookmarks.
Just print the sheet on heavy cardstock paper and you have fun and creative bookmarks. I know your readers will want to grab a book and dig in.
Can You Win A Bird Race? Bufo holds bird races with many of the Leafmen for fun. Now you can create your own with your friends. Cut out the square above and follow the instructions to make your bird.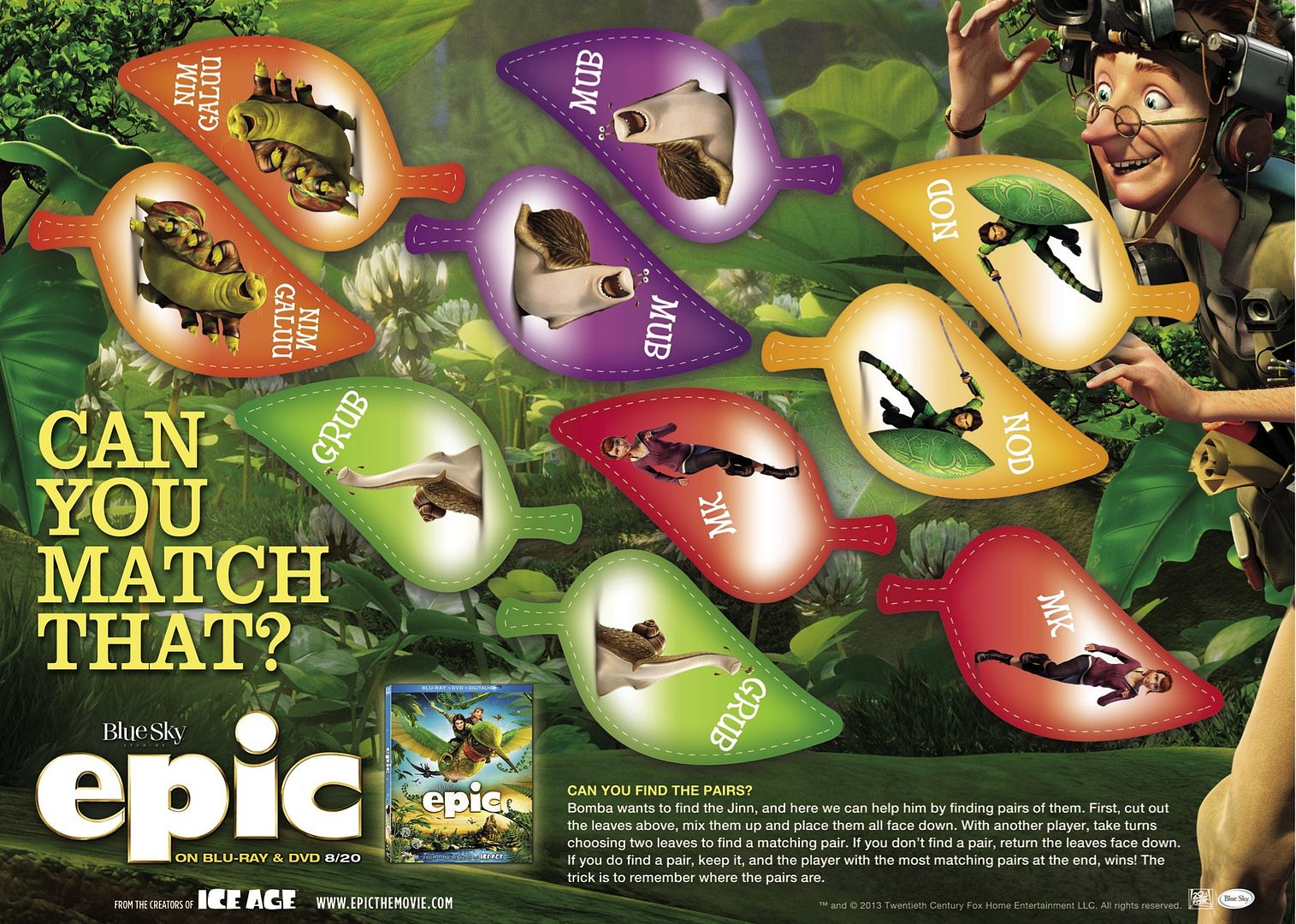 N
Can you find the pairs? Boomba wants to find the Jinn and here we can help him by finding the pairs of them. Cut out the leaves and mix them up then place them face down. With another player take turns matching them.
Now that you've all had an Epic time we've got something else to share. One of you will
WIN
Epic on Blu-Ray DVD. Just fill out the rafflecopter entry form below for a chance. Good Luck!
a Rafflecopter giveaway