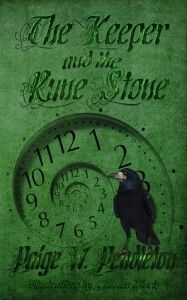 by Paige W. Pendleton
The keeper of the Rune Stone is set in Camden, Maine. Paige Pendleton describes the coastline, the scenery and the different areas through out the story with vivid detail. You'll feel like your escaping to a land of magic and charm right along with the children.
Rob , Jack, Eleanor , and Flora move into their new family home by the sea in Camden. It doesn't take them long to find an adventure . They become "aware" and discover an entirely different realm right along with mystical creatures like elves and vampires. The animals talk, there are both good and bad characters through out. The elves are struggling to find some kind of piece with in their society. (We can relate to them if we let ourselves. ) The children are introduced into this world rather quickly , a new world with a mystery. Who is after the rune stone?
I recommend this story for grades 5-7. The story line is a good fit for that bracket I think. Parents have nothing to worry about, it is just a fun story. Thanks for dropping in today. Check out the rest of the tour next week and don't forget to enter the great
giveaway.
More About It :
The secrets of the Red Paint People have haunted Maine for 7000 years. From the vast fjords of Norway to the shores of New England, ancient standing stones mark a trail of betrayal, greed, and murder…
The Keeper and the Rune Stone, Book One
An unholy ritual, a ticking clock. Four children discover there are things that go bump in the night …
Centuries ago a group of Elves committed an unholy ritual. But the ritual was a spectacular failure. It transformed the Elves into the Noctivagi – the beings we know as vampires.
Striving to maintain a fragile peace, the ancient Elves and Dwarves negotiated an Accord, which they've renewed every year on the Summer Solstice. The ceremony depends on the magical Rune Stone, but it's missing. If it is not found—and quickly—the consequences could be dire, and not just for Elves and Dwarves.
Four children, Rob, Jack, Eleanor, and Flora, stumble into a world of magic and mayhem when they move into Black Ledge, the old estate on the Maine coast, and discover they aren't the only ones who live there.
Buy The Keeper and the Rune Stone on
Kindle
By The Keeper and the Alabaster Chalice, Book 2 on
Kindle