Today I'm sharing a yummy recipe for stuffed peppers. I originally got this recipe from an old friend. You know how some people enter your lives for a short time and then they are gone. That would be her. She was a great friend for a bit and then we parted ways. However, the girl could seriously cook and I was left with some delicious recipes like the one being shared here today! I love easy when I'm in the kitchen and these stuffed peppers scream easy girls. That's not all they have a bit of a kick to them. I like a bit of spice do you? If the answer is no then you will want to adapt this recipe by leaving out the hot Rotel tomatoes.
Stuffed Peppers Recipe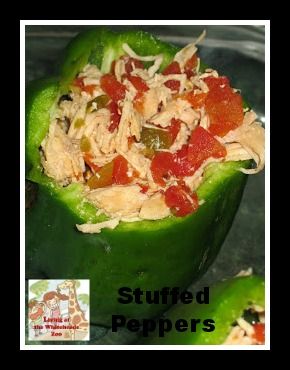 Ingredients You Need:
*bell peppers (however many you are cooking for I did 4)
*3-4 chicken breast
*1 can of hot Rotel tomatoes
*1 can of original Rotel tomatoes
*2 chicken bouillon cubes
*water
*optional Spanish Rice and Crushed Tortilla chips
How to Make Stuffed Peppers:
First, place your chicken breast, bouillon cubes and water into the crock pot and let cook for 4 hours on high. I use enough water to cover the chicken . When the chicken is done shred it with a fork. You can strain off any excess water. Add in your Rotel tomatoes and mix well. Let cook in slow cooker on low for about 2 hours.
Cut the tops off of your bell peppers and remove the seeds. Fill them with the chicken mixture from the slow cooker. I like mine really fully (see photo). Set them side by side in your casserole dish.
Bake at 350 degrees for 25-30 minutes.
Crush up tortilla chips over the top . You can eat them alone or serve them with Spanish rice.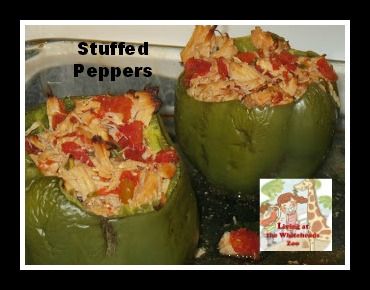 Looking for our Meal Plan Ideas? Check out our
Menu page
for all of our past meal plans. Here is our
June Menu
. You can also find food inspiration and meal plans on our
Pinterest
boards.