What's for
dinner
this week? That's what we're here to talk about . But first lets chat a minute. I'm ready for a new week this past one was LONG and the weekend wasn't one full of fun? Although I did get some much needed rest. It has rained and rained some more. The yard is a swampy buggy mess and I do hope it dries out soon so me and little Mr. can get outside and play. We did enjoy bubbles on the porch yesterday. Bubbles just bring out the kid in everyone right, who doesn't like them? Oh, and on a happy note my wonderful super man dad he really is super!!! laid wood flooring in Mr.K's bedroom. It looks so much bigger and so great! LOVE LOVE It and the ugly green carpet that was there is GONE! Whew. Most of my house is wood flooring or tile already but the boys bedrooms and mine still have carpet and I'm so happy to have another room carpet FREE. Anyway, now that I've spilled the beans about my life let's talk about food.
Here's what is cooking at our house this week.
MENU
Mon:
Salisbury Steak, noodles and green beans
Tues:
Cajun Spiced Pasta
(new) *this was on the menu for last week but something came up that night and we didn't have it.
Wed: Fajita
Thurs:
Sausage Stew
over rice and cornbread
Fri: Crock pot spaghetti
Sat:
Grilled Pork chops/ corn / mac and cheese
Sun:
Grilled chicken breast/ baked potatoes
Pull Apart Snack BREAD RECIPE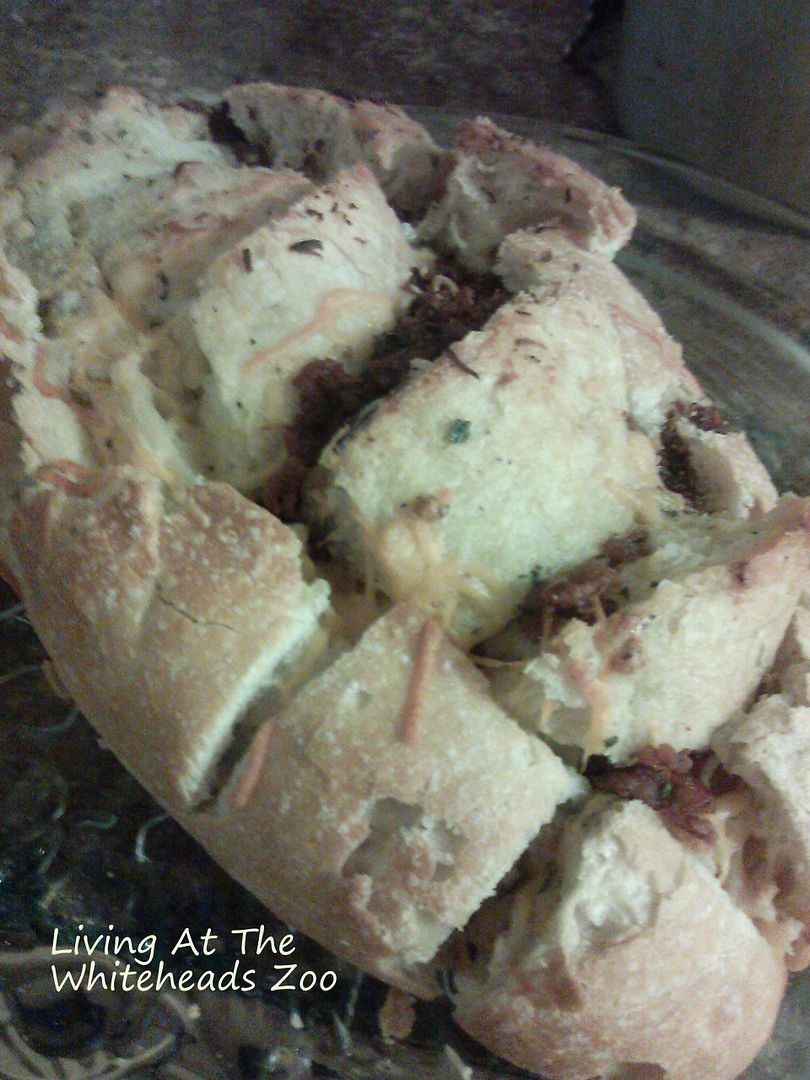 Now for some yumminess. Here's a quick and easy appetizer or snack type food you can make. super easy and adjustable. It's Bread! Now let me tell you about this bread. It pulls right apart and is packed full of yummy goodness. You can put what you liked in it to make it that way. The original recipe uses a couple of teaspoons of dry ranch dressing mixed with melted butter and poured over it. However, the family voted NO for that mix even though Mama says it is GOOD.
All a matter of opinion. They like melted cheese, butter and bacon on theirs. Can't say I"m complaining with the combo. You can pretty much do whatever though if you wanted to add in meats, or different kind of cheeses you could totally pull it off.

What You Need:
french bread loaf
1 stick of melted butter
shredded cheese ( eyeball it please)
cooked bacon crumbled or the "real" bacon bites
What You'll Do
Take your bread and cut it down the middle making two lines and then cut it across making opposite lines. Basically your making the "bits" which you'll pull off later.
Pull apart the spaces so there are little pockets in your bread and stuff them with cheese and bacon.
Pour your melted butter all over the top filling in your holes covering well.
Bake in the oven at 350 for 30 minutes.
There you have it.
Do you menu plan?
Let us know what your having or share the link we're always looking for new ideas! Visit our
Menu Page
here or our
Meal Plan Pinterest Board
for other great ideas .