I can't believe we're coming to the end of April. Are there certain foods you cook only seasonly. It will be heating up here soon and with the summer months around the corner I'll be using the crock pot and salads to keep the kitchen from heating up as much as possible. With that in mind here is what's for dinner this week at the Zoo.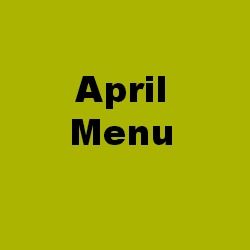 Beanie weenies and fries
soup and subs
meatloaf with tomato sauce / rice and stewed tomatoes/ corn
sausage bake
Hamburger gravy over rice/ green veggie/ rolls
Meaty Nachos
Pork and rice / mac and cheese/ veggie
hamburgers/ chips
Leftover night
Fried chicken tenders/ rice/gravy / veggie
Find the entire April Menu along with many others over on our Menu Page.