I recently received the
Colgate Optic White
products for review from Influenster. We received mouthwash, toothpaste and a toothbrush in our Sugar 'n Spice Vox Box. To begin with you'd have thought the older kids had never seen such products as they fought over who would try what. In the end we all used everything except the toothbrush of course (dear daughter got that one).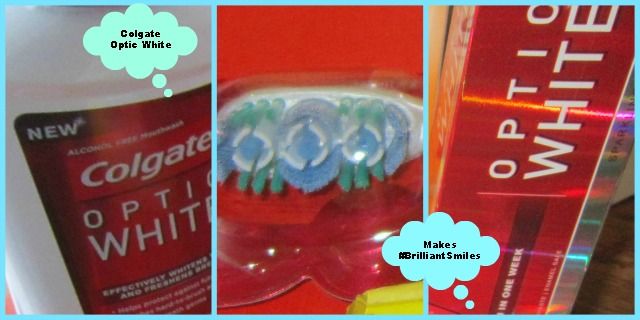 It's kind of funny because this Mom really would not have thought the kids would have even noticed mouth wash or toothpaste. However, they both surprised me and at different times. The first time my middle son used the Optic White Mouthwash I heard hollering from the bathroom "MOM You Gotta Come Here". Of course I'm thinking, "What on Earth?" I head to the bathroom to see what the fuss is about and am awarded with one prize winning smile. "Check out my teeth this stuff works! It shows the plaque and everything I had to really brush my teeth. " Now what mom wouldn't grin at that!
Then a week or so later dear daughter weighed in her thoughts on the toothpaste. "Hey Mom that new toothpaste works great I like it! My teeth are getting white." This Mom again smiled.
I think we will buy these again because of course this mom loves to see her kiddos #BrilliantSmiles.
disclosure: We received a set of free products on behalf of Colgate compliments of
Influenster
! However, all of the opinions shared are my own .
Thanks,