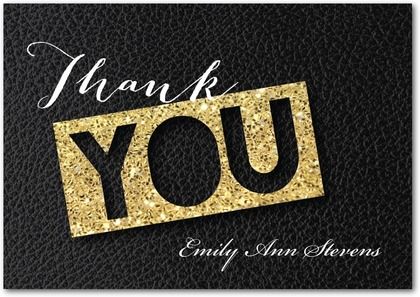 Are you a thank you note writer? I think they are so very thoughtful. I really try to send them as much as possible. As a matter of fact I have a few I need to send right now.
Thank you notes are a powerful way of expressing gratitude. They are the longest lasting way of saying "thank you" (OK, outside of giving someone a permanent tattoo in their sleep...but that never works).
Either way, you can get a great deal on stylish, personalized thank you notes from Tiny Prints today. They are selling all of their more than
1700 designs
for 40% off...for less than 24 hours. The deal is only good from 10:00am Pacific Time today through 8:59am Pacific Time tomorrow.
They have perfect designs for graduates to say thanks, thanking people for Easter gifts, for kids, for parents, for business, for literally every occasion. And you get to personalize them by adding your own text, choosing your font, and even uploading your own pictures if you choose.
So
check them out now
and use the promo code DEAL0404 to save 40%.
disclosure:
The above post may also contain affiliate links, if you click on those we may receive money and we thank you! Regardless, I only share products and services I think will be a good fit for my readers. Thanks again!