How hard can it be to
replace your water heater
? That's what J and I thought anyway. First, you have to find the water heater. Ours crazily enough is in a wall in my walk in closet. Not the most ideal place for a water heater let me tell you. Next, I'm not really sure what is involved I just "supervise" the situation. You know like this, "honey how long before we have hot water? You are not getting water in my closet are you? What do you need that tool for?"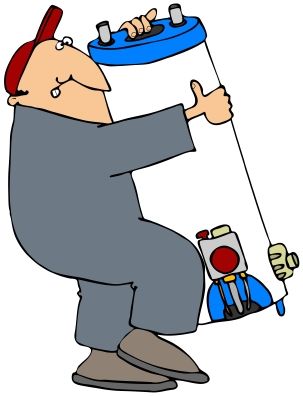 I am positive that I was not that big of pain. You can even ask my husband. Changing our water heater out was not a fun experience. It went out when we were not planning on it as all things do, and we had to come up with the funds to cover it. That's when that emergency fund that we so need to build up would have came in handy. One of the many times. As things to be without hot water is not one we want to be. Who wants to take a cold shower/bath at the end of a hard day? Not the Whiteheads. We came up with the money and J. set to work on replacing it.
As things usually happen though our do it yourself projects end up way more difficult than what we imagine them to be. Water on the floor, a few not nice words later, a torn up wall , a second trip to the builders supply (which is an hour away) and guess what we still did not have hot water. "This is not good" I kept thinking. Maybe we should have hired a plumber? Finally, we found out the problem was with the new water heater and not the installation and had to take it back and start all over. You can just imagine how happy J. was about that. After several headaches and bumps along the way J. had it done and we were happy as clams to have a brand new water heater and hot water. Some things are worth waiting for.
Have you ever had to replace a water heater? Did it go smoothly or was it a great big mess?
This is a sponsored post however, all the points and views are my own.