When a school goes green the school benefits, the environment benefits, children benefit and so does the community. It's a win win for everyone involved.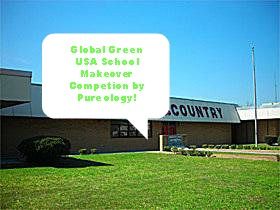 Today I wanted to share with you the
"
Global Green USA Green School Makeover Competition Presented by Pureology"
.
K-12 schools across the country are invited to enter the Green School Makeover Competition. For a chance to win $75,000 in funding, along with Global Green USA's technical assistance in seeing the plans through to completion. Find information on how to enter here.
Why do I feel like this completion is worth telling you about? Why is it important? Well one school with get $75,000 in funding and that is pretty incredible. But that's not all. Imagine the possibilities that $ can bring. They can create a recycling program, educate students, start programs that teach and also do community service projects. They can create a better , greener and more friendly campus which will encourage students and staff. There are so many different ways being a winner here can be a good thing. Staff, community and the minds of young adults can be influenced to not only live greener for themselves but also future generations!
Find out More about Pureology !
disclosure: Living At The Whitehead's Zoo
contains endorsements for products and services, which means when you click on a link that I recommend, I may receive a commission. Not every link on this site is an affiliate link but some are! This is being shared as part of the Influenster program.
Thanks,