$100 Amazon GC Giveaway - Sponsored by Everyday Healthy Values
At the beginning of the year I set the goal for myself in 2013 to lead a healthier lifestyle. The hope is to better me, and also encourage my children to lead healthier lives. I know if they get use to it now it will be easy for them when they are old and wilting. Finding healthier options is not always the easy way to go. Actually, complete opposite. That's why I am super excited to bring you this weeks Mission Giveaway.
About Our Sponsor - Everyday Healthy Values
Everyday Healthy Values
is an online community that brings together better-for-me product coupons, including healthier options in food categories that may not be traditionally viewed as healthy. A study shows almost half of Americans think it is easier to do their taxes than figure out how eat healthy. Healthy eating can be tough. Some people feel it is expensive. And with so many options to choose from, many people are seeking guidance on what is healthier. Everyday Healthy Values helps make it easier to save and eat better. No more searching lots of places for healthy options. Visit
Everyday Healthy Values
for savings on your favorite healthier food options and products.
The Prizes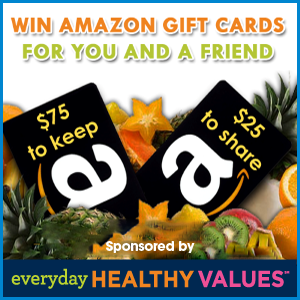 The prizes are 2 Amazon Gift Cards, totaling $100
Winner Keeps:
A $75 Amazon Gift Card
Winner Shares:
A $25 Amazon Gift Card
How to Enter the Everyday Healthy Values Event
The Giveaway will open up on
3/12

12:01 am EST
and Close on
3/15

at 11:59 pm EST
.
Complete the entry on the Rafflecopter below.
a Rafflecopter giveaway
Check out and Enter our Other Giveaways
Side note...It's
not
mandatory to enter all the giveaways at each blog. Those are just great bonus giveaways for you to enter. Mission Giveaway started with
Madame Deals
and her $100 story where with $100 several people received the help they needed. We are on a mission to help people help each other! We have gathered a group of bloggers that want to make a difference. Together we are Mission Giveaway! To ask about becoming a sponsor, please contact Amee or Dawn at
madamedealsmedia@yahoo.com
for details. Take a look at our
Media Kit
to see what Mission Giveaway has to offer. Are you a blogger that would like to participate in Mission Giveaway? Find out how you can
join us
. Find our official
Terms and Conditions
on the Madame Deals Media page.
Thank you for joining us for the Everyday Healthy Values Mission Giveaway