Here at the Zoo we love bubbles. Mr.C loves blowing them, loves chasing them , loves popping them and loves spilling them. The thing about blowing them is he usually gets so excited he spills them or he blows to fast and they pop before they make a bubble which leaves him good and aggravated and having Mom blow them for him . I recently picked up the Gazillion Bubble BBQ for him to play with. He was so excited and couldn't wait for me to put it together and let him play.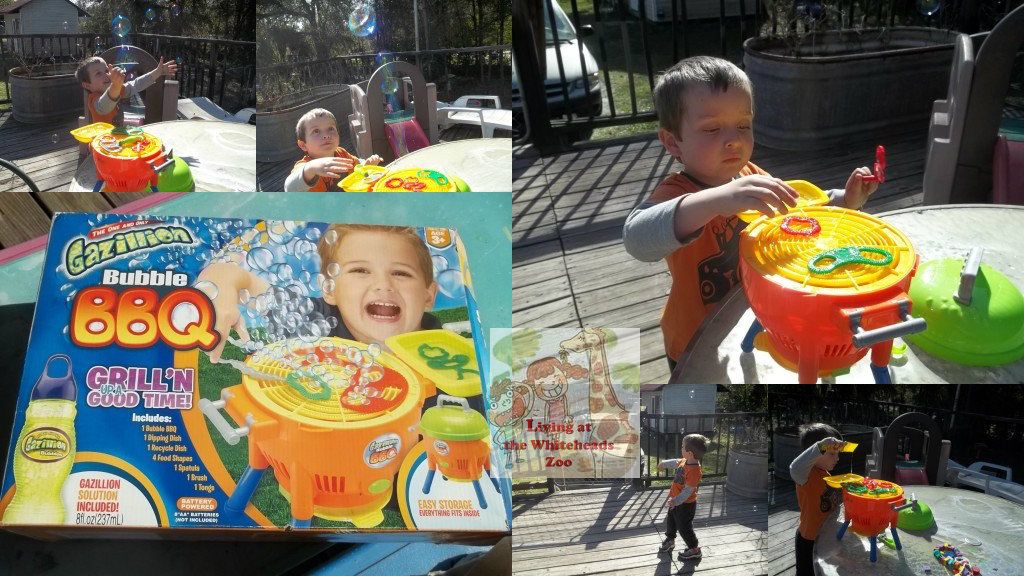 My only complaint would be that it takes 8 AA batteries (ouch) and that the screws to the battery compartment are the super itty bitty tiny ones that are a pain in the butt to undo. Other than than that it puts together super easy. Mom put it together with no help which is saying something , because honestly I stink and putting toys together. Everything just snaps on, the directions are super easy to follow. There are several ways to play with it. You can either dip the play food into the bubble tray and then lay them on the grill or you can brush the bubble solution on to the food . We chose to dip and place. It comes with really cute tongs and a brush that hook to the side and the blower makes a
ton of bubbles
!!
PROS:
Lots of bubbles
Easy to Put Together
Several different ways to play
Cons:
8 batteries
tiny screws in the battery deparment
Overall, we really like this toy and I would totally purchase it again. We've already played with it several times and it has given me smiles and laughs plus kept one active boy busy.
disclosure: This post contains affiliate links. I was not compensated for this post I bought this on my own and thought you'd might like to know we like it!
Thanks,