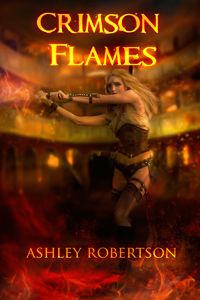 Crimson Flames is the 2nd book in the Crimson series by Ashley Robertson. Vampires, Romance, Adventure this book has a little bit of everything to keep you reading!
What did I think?
If you love a good vampire story then you will enjoy this one. Abby Tate is half sorceress half vampire and her powers are Awesome Cool. This little hybrid is not only one of a kind she is one
BAD
chick. One of my favorite parts is the connection that Abby is forming with her mother the Sorceress Madeline. Abby didn't grow up with her mom and the love her Mom obviously has for her and the bond they are forming just adds warmth to the book.
Abby seems to be surrounded by hot men or hot vampires we should say. The problem is she has trusted the wrong man so many times and been deceived how can she trust the right one? There are definitely some sparks of romance for Abby Tate and we can't wait to see where they go. . Her human boyfriend did nothing but lie and break her heart. Before that John and her best friend Mandy (Uh Oh). She is a bit wary of love, even when it is right in front of her. I think a lot of us have felt that way from time to time. The way she forms attachments to all of those close to her is charming and even more so that she does her best to protect all that mean anything to her. Even the ones who've broken her heart.
Abby is caught between the vampire head council and the resistance. The battle that unfolds is one heck of an adventure. Book #2 is a great addition to the series. I hope to be reading about Abby Tate and her sexy boyfriend in a book #3.
More about the book:
Half-vampire Abby Tate is determined to learn more about the sorceress powers that were awakened inside her when she was turned into a vampire—making her a whole new hybrid species. There's a group of rogue vamps banding together and forming a Resistance against the vampire governing body, The Head Council, and Abby's newly discovered powers are the key to the Council's victory. Now the Resistance will do anything possible to remove the hybrid threat, and with no other options, Abby is forced to rely on the aid of the Council, yet can she trust the very vampires that hunt for her human lover? And even worse, can she fight the unwelcome attraction that's growing between her and one of those ancient vampire rulers?
Follow Ashley Robertson
Follow the Tour
disclosure: I received a complimentary copy of Crimson Flames for review. All opinions are 100% my own .I have included an affiliate link.