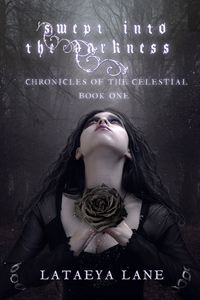 My thoughts:
Swept into the Darkness (Chronicles of the Celestial)' by LaTaeya Lane
LaTaeya Lane takes angels in an all new direction. You have your dark "fallen" angels, those of light and your main character Sydney London is half human half angel. Mixing angels with a bit of mythology you'll find yourself captivated right away. Swept Into the Darkness not only brings to life angels, and all sorts of other mystical creatures (werewolves, vampires, angel vampires, elves, and more). LaTaeya has you open up your imagination and takes you into a world of fantasy.
Sydney is one at a time losing every person she cares about. She discovers her childhood best friend is an angel and she is too. She begins developing her powers and learning how to fight the darkness that is coming for her. Just in the nick of time too. That darkness includes a circle of angel vampires who want Sydney to join them to do harm to the Earthly realm. Will Sydney be able to fight the darkness? Or will she fall right into a trap. A surprising ending Swept Into the Darkness brings something new to the paranormal table.
Synopsis:
Sydney London is no ordinary twenty-four year old. Ever since she was a child she has had unique out of this world abilities. Suffering from a near death experience and surviving a deadly car crash Sydney is no stranger to death and loss. Cut off from the world around her she encounters an Angel and eventually falls for him inspired by deceitful magic.
Her one true love awaits in the shadows attempting to guard and protect her by risking his immortality. Traumatized by the murder of her best friend she sets off on an unspeakable journey to bring the dead back to life. Sydney's journey of self discovery opens her up to learn of her true angelic identity. She is led in the middle of an inter dimensional war among a hybrid breed of Angel Vampires and the Hierarchy of the Angelic clan. Will her unique powers and the love she bears for her guardian be enough for her to save the Earthly Realm or will she be Swept into the Darkness?
Follow LaTaeya Lane
Website
|
Facebook
|
Twitter
|
GoodReads
Follow the tour and enter to win a $25 Amazon Gift card
disclosure: I received a complimentary copy of Swept Into the Darkness for reviewing purposes. All opinions shared are my own.