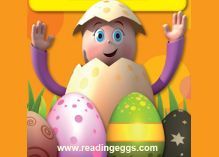 Reading Eggs has been a great educational game for my four year old. He loves to get on the computer and play his game. Little does he know he is learning too. Reading Eggs is very repetitive which gives him a lot of practice at each letter before moving on to the next. For one letter (example: s) he has to choose the letter multiple times. When he clicks on the letter it gives him the sound of the letter. Then he chooses the letter in a word multiple times. The next step is to connect the dots and make the letter. You even create your own letter book putting pictures in that begin with the letter on. Reading Eggs is engaging and fun which is just what I'm looking for when looking at programs for my son.

Reading eggs focuses on core curriculum of skills and strategies essential for sustained reading success for ages 3 -12.
We liked Reading Eggs for the following reasons:
Repetition
Great practice
Uses core curriculum
Engaging
Fun
I would happily recommend
Reading Eggs
for an educational game for your preschooler.
disclosure: I received a complimentary trail of Reading Eggs in exchange for an honest review. All opinions are my own.