Valentine's Day is less than a month away now. I'm really excited about, because it is C's first year in school (well preschool). I know he is going to love getting Valentine's and sharing with his new school friends.
So, I first saw the
frog milk jug craft
at Danielle's Place. If you are looking for fun crafts for kids she is amazing!! Also if you would like step by step directions you can find them there. I could honestly spend hours there pinning and oogling her creative ideas. Anyway, I knew right away I wanted to make the frog with C. His favorite book currently is Jump Frog Jump by Robert Kalan.
His favorite part of course is when he gets to Yell "Jump Frog Jump." My favorite part is the illustrations , it has really bold bright colors and I just love that!
We did our's a bit different from Danielle's. She uses spray paint for her milk jug. If you are making 20 of these for your Preschool class then I recommend doing that also. I however, let my four year old assist me this weekend so we just used green water based paint. Basically you can look at the photo and figure it out. You need a milk jug, some paint and eyeballs and a little creative juice. Good Luck and Have fun!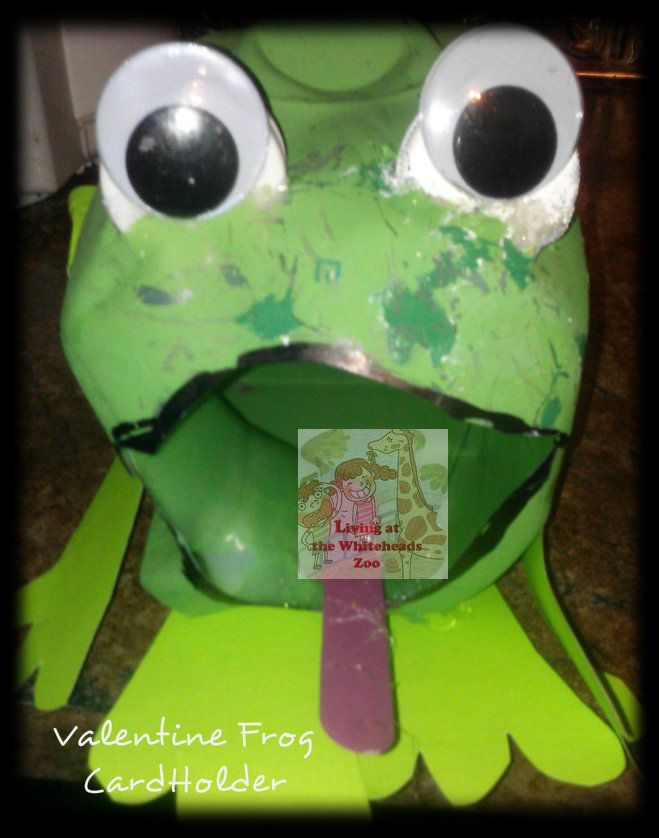 Frog without hearts! Either way I think it turned out
cute. We're going to fill the mouth with candy and take it to C's preschool class next week for a surprise.
You might like last years card holder "
Cookie Monster Cereal Box craft
" We've really enjoyed our frog holder but if frogs aren't for you no worries. We plan on sharing a few more cute and crafty Valentines ...in the next week or two. Whose ready? Don't want to wait for our crafts then visit our
Valentine's Day Pinter est Board.