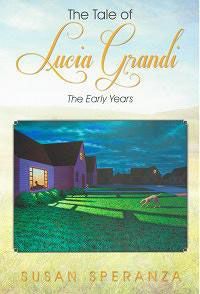 My Thoughts:
I cried! The Tale of Lucia Grandi is one of a life that makes you appreciate your own. I know I do mine! Parents like Lucia's did not deserve to have children. They were awful, dysfunctional beings whose actions and words make me cringe. Lucia Grandi's childhood is a tragic one at best. The hurt and pain she went through every day through out her life at the hands of these people who are suppose to provide love and security .
Lucia is the middle child and the second daughter. The sibling rivalry in this family is horrid. Largely because of Lucia's mother. The one certain in Lucia's life is the relationship she shares with her grandfather. I think that he truly did love her. However, I couldn't for the life of me understand why her grandparents did not intervene more or come to her rescue and remove her from that home. Her life could have been so very different.
One thing is certain as the story moves along. Lucia is a survivor! It is almost as if the world as against her every step of the way , yet she perseveres and gets through.
The Tale of Lucia Grandi The Early Years is fiction yet it reads so real. You imagine this story to be one of a young woman who has suffered much. Susan Speranza did a great job of creating a story that allows you to feel the tragedy each step of the way.
Follow Susan Speranza
Website
|
Facebook
|
Twitter
|
GoodReads
Follow the Tour and Enter the Contest
for a $50
Amazon Gift Card !
disclosure: I received a complimentary copy of this book for reviewing purposes. All opinions shared are 100% my own.
Thank You,