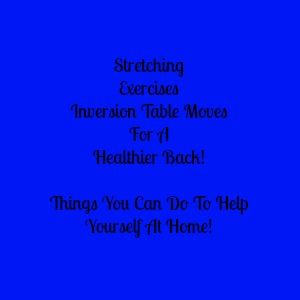 Back pain can be absolutely miserable. I've had my share of aches and pains. My husband actually had to have back surgery a couple of summers ago. So, back pain is not new to our home. Who ever said getting older is fun? Each year passes it seems like we find a new ache or pain or something to sag or fall . Definitely not things you are worrying about in your twenties. There are things that you can do to alleviate the pain or put less stress on your back.
Inversion Table
exercises use reverse gravity to alleviate the stress on your back. There are many different stretches and exercises you can try at home to strengthen and stretch.
Most people like stretching the back. I know I do. Of course please always check with your physician before you try any kind of workout or exercises. Here are some stretches that you can do at home some using an inverted table and some without.
These are great on an inverted table:
Spinal Stretching like the Jack Knife Stretch
Abdominal exercises (inverted crunches) Being on an inverted table gives less strain on the neck and creates more resistance for the abdomen.
These are simple exercises you can do at home to help strengthen your back:
The Bird Dog Stretch is one of my personal favorites for the back.
Lunges are also a great back strengthening exercise.
Dumb bell Bent Over Row (these are actually in my daily routine)
Try Pilate's or Yoga there are several DVDS you can purchase for home or you can try a class.
My husband had weeks of physical therapy after his surgery. The exercises / stretches they gave him to do really were not difficult moves at all. It was all about building up endurance and repetition. The same goes for many of these. Hold them then repeat them building up to doing more.
There are all kinds of resources available for you to customize some exercises to help you have that healthy back. You can find videos of stretching and technique on You Tube. There also DVDS and other workout type media you can purchase. Your Doctor will have a handout on stretches you can do if you ask him/her for it. Whatever you try remember to do it safely.
This is a sponsored post however, all the points and views are my own.
Thanks,