My Thoughts:
Shifty Business is the third book of the Bend Bite Trilogy. Olivia Hardin is quite the storyteller weaving a story you won't want to put down.
Book three is the story of Gerry and Nicky. Nicky finds himself not knowing what to do when his wife ends up in a coma just at they are on the run and without funds or a place to go. For days she stays that way and he becomes m ore and more restless. Then a Voodoo woman appears and reveals things about Gerry that sends Nicky's world spinning.
The book could stand with the story of just this couple but then there is so much more. With Jill, Doc, Devan, Kent, Langston and the rest of the crew all on a mission to rescue children and combat evil.
Shifty Business made a wonderful ending to this trilogy. However, Olivia Hardin has decided to take it further and continue writing about this group of characters. I'm happy to say I can't wait to see where she takes us!
Connect with Olivia Hardin -
Blog
|
Goodreads
|
Twitter
|
Facebook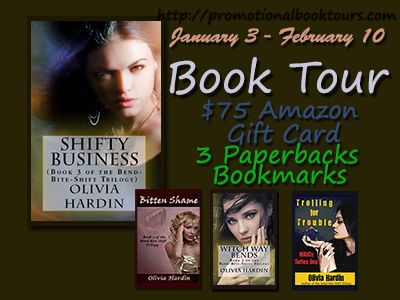 Follow The Tour And Contest for your chance to Win a $75 Amazon Gift Card
disclosure: I received a complimentary copy of this book for reviewing puposes. All opinions shared are my own. This post does contain affiliate links.